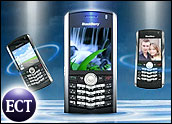 Business is booming at Research In Motion (RIM) as regular consumers join their business-oriented brethren in snapping up the company's ever-expanding line of BlackBerry mobile devices.
Second quarter revenue at RIM was up 27 percent from the first quarter and more than doubled last year's second quarter, an increase partly attributed to purchases of BlackBerry units by more than just business people.
The Ontario company raked in US$1.37 billion in revenue for the second quarter. In the previous quarter, RIM reported $1.08 billion. For the second quarter of 2006, RIM brought in $658.5 billion in revenue. About 78 percent of the new revenue came from the sale of its mobile devices, the company said.
RIM reported about $288 million in income for the quarter compared with net income of about $223 million in the prior quarter and about $140 million in the same quarter last year.
Sleek Smartphones for the Masses
RIM's co-CEO Jim Balsillie attributed the "exceptionally strong results on all metrics" to the increasingly large BlackBerry product portfolio as well as to "continued diversification of our business across market segments and geographies."
RIM, founded in 1984, has carved a niche as a creator of no-nonsense, highly-functional mobile productivity units aimed primarily at business users. However, RIM's sales to consumers are now outpacing those to enterprises, and Balsillie said RIM plans to pursue more non-business users.
Among the new BlackBerry units being snapped up by non-corporate users is the BlackBerry Pearl 8120, a device that comes with a digital camera, WiFi connectivity, a memory card slot, e-mail and Web browsing features. A newly announced BlackBerry Pearl 8130 smartphone is also clearly aimed at entertainment-minded consumers as it comes with a camera, a Web browser, maps, GPS navigation and expandable memory.
Security, Functionality for Road Warriors
The company, of course, is not abandoning its enterprise users. RIM has a number of initiatives designed for the business class, and Balsillie stressed the ability of BlackBerry's business-oriented devices to work with secure virtual private networks (VPNs) in use at many companies.
RIM also is trying to attract groups, families and small or home businesses. The company has created BlackBerry Unite, free software that allows groups to share information including calendars, files and documents stored on PCs.
Additionally, RIM is continually adding to the places people and companies can buy BlackBerry devices. "Our expansion in retail and indirect channels is ongoing," said Balsillie.
Building the BlackBerry Army
RIM reported having about 10.5 million BlackBerry subscriber accounts and selling more than 20 million handsets. It said it added about 1.45 million BlackBerry subscriber accounts in the quarter and shipped more than three million devices.
"We are pleased with our position in the market today and we expect recent product and market initiatives to extend our business momentum through the remainder of the fiscal year," said the company.
RIM apparently is doing the right thing in devoting its energy toward the market for consumer-oriented wireless devices, Strategy Analytics analyst Chris Ambrosio said.
"Continually filling the product pipeline with compelling designs and new interesting features like GPS (global positioning system) and WLAN (wireless local area networking) is important to RIM's efforts to capitalize on the huge potential that sits before it in the consumer market," Ambrosio told the E-Commerce Times. RIM's ability to do that and to build "a unique, consumer-centric brand value" to the once all-business BlackBerry line is impressive, he said.
"RIM is firing on all cylinders," said Ambrosio. "Having unit shipment growth of 128 percent annually, subscriber growth of 106 percent annually and subscriber growth is impressive in today's hyper-competitive cellular device market."