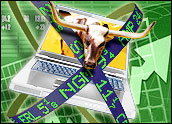 Two tech stalwarts — Oracle and Research In Motion — posted solid quarterly earnings, not only goosing their own shares, but delivering a boost to the stock market in general.
The bigger surprise was RIM, which posted higher-than-expected second quarter earnings and gave a forecast for the third quarter that also beat analyst expectations.
Net income for the BlackBerry maker rose to US$796.7 million, or $1.46 per share, from $475.6 million, or 83 cents per share, a year ago. Analysts had expected $1.35 per share.
RIM forecast third-quarter sales ranging between $5.3 billion and $5.6 billion — well ahead of the $4.8 billion the Street thought it would post for the period.
Oracle also reported strong numbers for the quarter ending August 31: net income of $1.35 billion, up 20 percent year over year, and revenue of $7.5 billion. Analysts had been expecting $7.27 billion in revenue.
Several brokerages raised their price targets and guidance on Oracle as a result.
"As far as financial days go, this was a good one," Rob Enderle, principal of the Enderle Group, told the E-Commerce Times. "Both companies came in at or above expectations — and given the problems both have, that is pretty amazing."
Putting Out Fires
Of the two, RIM has more ground to make up, Enderle said — and it is not entirely clear it has completely shed its problems.
"RIM's performance tends to be lagging — meaning that it is still riding on the deals it struck last year," Enderle said.
"We have yet to see the impact that the security problem might have had on the company," he added, referring to the troubles that began when the UAE and Saudi Arabia threatened to block access to the service, which in turn prompted other countries, including India, to make their own demands.
Saudi Arabia and RIM eventually came to an agreement, and RIM is in the process of working things out with India, but the issue is far from resolved.
The flap "spooked a lot of IT administrators and prompted some to be willing to consider other phones," Enderle said.
RIM's woes go back a lot farther than its recent tangles over security, however. It has been battling a perception that it is has become a has-been in the smartphone arena, especially when stacked up against Android and Apple. Recent figures from Gartner confirm this perception: RIM placed fourth place in the worldwide mobile device market in Q2 2010, behind Nokia, Samsung and LG.
Its corporate users still make up a devoted following — but they are no longer exclusive to the BlackBerry. There are signs that corporate users are also gravitating to Apple, especially since the launch of the iPad.
Torch Inspires, App Sales Raise Hopes
RIM has taken several steps lately to counteract the flagging interest in its brand. It acquired Cellmania, an application storefront developer whose products drive mobile ecosystems for operators, infrastructure providers and content operators.
The move is expected to increase the number of apps available to BlackBerry users — of critical importance, because apps have become a key driver in smartphone sales.
There are also signs that RIM is making a push for the mobile ad market, which is essential to attract more app developers to its platform. RIM has engaged in talks to acquire mobile ad firm Millennial Media, The Wall Street Journal reported last month. Those negotiations reportedly broke down over the price tag. Still, assuming the WSJ report is correct, it illustrates the attention RIM appears to be giving to the role apps can play in boosting its smartphone sales.
In the immediate term, though, RIM is riding a surprising wave of popularity for its recently released Torch device, which some analysts had dismissed as a "me too" phone — that is, one offering little in the way of innovation.
They were wrong, said Co-CEO Jim Balsillie in a call with analysts on Thursday. The device is proving to be "is an excellent step forward. The promo campaigns are just starting. That's why you have seen the jump in guidance."
Still, RIM needs to differentiate itself more, said Azita Arvani of the Arvani Group.
"They still need to prove that they are not just following the leads of iPhone and Android, but they are innovating beyond those platforms. The Torch device is a solid offering but not necessarily an innovative smartphone," she told the E-Commerce Times.
In fact, the Torch highlights RIM's weakness in the app category, she pointed out. "There are about 2,000 apps for the Torch device in the App World, which is far fewer than iPhone's 250,000-plus apps and Android's 85,000 plus."
RIM has promised that we will see great things in the BlackBerry Developer Conference later this month, Arvani said.
For the company's sake, that will hopefully include an innovative tablet device, she suggested.
Getting Sun Under Control
A prelude to Oracle's Friday morning stock bump came earlier this month when the company announced it was bringing on board HP's former CEO Mark Hurd. Wall Street loved Hurd when he ran HP, and it apparently still loves him: On the day of the announcement, Oracle's shares were up by 5 percent, creating $6 billion in new wealth.
Although a controversial pick — and one that prompted a lawsuit from HP — Hurd's appointment is seen by some as the answer to Oracle's problems in integrating Sun Microsystems, an area in which Hurd has much expertise.