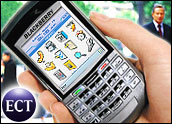 Research In Motion's service outage earlier this week occurred because a new BlackBerry storage feature had not been sufficiently tested, the company said on Friday.
RIM added the new component to the BlackBerry server environment to streamline the process for storing items on the devices. However, because the feature was not thoroughly tested, RIM did not realize that introducing it would trigger interaction errors between its operational database and cache.
The company also alluded to why it took so long to deliver an explanation for the malfunction.
"RIM's first priority during any service interruption is always to restore service and then establish, monitor and maintain stability," it said.
"Proper analysis can take several days or longer, and RIM's commitment is to provide the most accurate and complete information possible in such situations."
Second Chance
Some BlackBerry users are willing to give RIM a pass — for now.
"If the reason why it crashed is simply a mistake — they didn't do proper testing — then it is not a big deal," said self-described "devoted Crackberry" John Corcoran, proprietor of Tampa, Fla.-based mobile device retailer Wireless Toyz.
"RIM has been so solid for so long — and the server never goes down — that I don't think they would suffer for it," he told the E-Commerce Times.
However, if it were to happen again — say, because RIM was growing its customer base among consumers — that would be a problem with old-guard users, according to Corcoran.
"BlackBerry has traditionally been an exclusive club of middle-aged businessmen," he said, with a shade of self-mockery. "We didn't mind paying the price for the service. But as RIM adds millions of more users, I think it might cause some of the stalwart users to worry."
The vagueness of RIM's comments in the aftermath of the outage left Corcoran feeling a little dubious. "BlackBerry users are a tech-savvy bunch. We want a straightforward explanation when things go wrong."
Unstable Technology
The addition of consumers to the service was not likely a contributing factor to the outage, Michael Voellinger, wireless analyst for the consultancy Telwares, told the E-Commerce Times.
"What happened points to the fragility that still exists in the mobile world. Wireless communications are not bulletproof, by any means," he remarked.
"Compare this to Microsoft and all the issues that we have with patches. If something becomes more prevalent and popular — it becomes more open to more opportunities for failure," Voellinger pointed out. "I don't think this is last time this will happen, either."
Withdrawal Symptoms
That is not what Peter Shankman, CEO of the Geek Factory and another devoted Crackberry, wants to hear. He was on a flight that was just landing in Minneapolis at zero hour, when the BlackBerry service went dark.
In retrospect, it was quite funny, he told the E-Commerce Times.
"As the wheels touched down, you could hear everyone turn on their Blackberries or mobile phones like they always do," he recounted, "but then there was a groundswell of murmurs from the Blackberry owners when we couldn't log on.
"You heard the collective snap of the battery packs being opened to make sure it was OK. Then everyone starting talking:
'Is Minneapolis a bad place for a connection?"No, I fly into Minneapolis all the time, and it is fine usually."Well, can you get online?"Can you get e-mail?"I can't get e-mail!"Why can't I get e-mail?"What the hell's going on?"Where's the e-mail??'"
Shankman, who added that he was the loudest of them all, was not particularly impressed with RIM's explanation on Friday.
"I thought it was completely BS — the most stuttering non-explanation I have every heard in my life," he fumed.
Not that he would leave, unless sorely tried. "Where else would I go, Sidekick with Paris Hilton?"
No doubt RIM is counting on that.