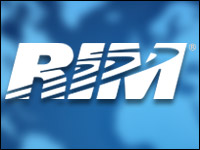 Research In Motion reported quarterly results that fell below investors' already meager expectations Thursday, adding that it plans thousands of further layoffs as well as another delay to the release of its BlackBerry 10 (BB10) platform.
RIM announced a US$518 million net loss on the quarter, or about 99 cents per share. Its revenue on the quarter was $2.8 billion, down 33 percent from a quarter ago and down 43 percent from the same time a year ago. The company shipped 7.8 million BlackBerry smartphones and 260,000 PlayBook tablets.
The Canadian company also revealed it plans to lay off about 5,000 employees, or about a third of its workforce, as part of a plan to save about $1 billion in costs.
Wall Street did not have high hopes for long-struggling RIM, but what the company delivered still managed to disappoint them. The company's stock plunged more than 15 percent after the announcement and continued to fall the next day. By mid-day Friday, shares were valued at around $7.50.
Perhaps the most foreboding signal RIM divulged Thursday was the further delay for its BB10 platform. The long-awaited operating system has been delayed before; however, RIM announced it won't hit the market until the first quarter of 2013. Investors had been hoping to see a BB10 phone hit the shelves before this year's holiday season to breathe some life back into the company.
RIM didn't respond to our request for further comment.
BlackBerry 10: Will It Exist? Will It Matter?
Without BlackBerry 10 — or even a competitive smartphone — on the market, the company can't expect to keep revenue high even in the other areas of the company, said Blaine Carroll, senior analyst at Avian Securities.
"BlackBerry 10 was supposed to be around this time last year, and it just keeps getting pushed out," Carroll told the E-Commerce Times. "That was part of the issue with its earnings and going forward. When they have these older products and older operating systems, they're going to have to cut the prices on their products and within the company, and that clearly hurts profitability."
Five years ago, RIM was a leader in the smartphone industry. But as Apple's iPhone and Google's Android options hit the market with what many consumers saw as superior Web browsing capabilities and better application and gaming ecosystems, BlackBerry devices struggled to compete.
Judging by RIM's descriptions, the BlackBerry 10 platform could propel the company's phones into the same league as popular iPhone and Android models. However, for a product line that has failed to capture a significant customer base for this long, a new platform — if it arrives — might not turn out to be the hit that the company is hoping, said Trip Chowdhry, senior analyst for Global Equities Research.
"The BlackBerry 10 launch is a non-event," he told the E-Commerce TImes. "The question for BlackBerry is, what is the differentiation? And I would say nothing, because it doesn't have a consumer space and it lacks innovation."
Exploring Options
RIM expects the next few quarters spent waiting for BB10 will be difficult. The company might have to explore other options if it wants to stay together, said Carroll.
"The strategic advisors are looking," said Carroll. "Right now if you think about RIM, they basically have these three disparate businesses, with hardware manufacturing, software manufacturing and trying to be a network provider. They're stretched a little thin when you're trying to do all three."
In the past, he said, a telecommunications business could have been able to keep up, but as the electronics industry grows, a company needs to have a solid infrastructure in place to maintain profitability.
"If you look back 10 years ago they might have been able to do it, but there are a lot more subscribers now, and the industry is moving at a very rapid place," said Carroll.
Figuring out how to restructure will be challenging for a company that doesn't have at least one solid, core product to fall back on, said Chowdhry.
"At RIM there is a fundamental failure to create a market and innovate," he said. "The company doesn't have a fundamental strength, the products are obsolete, and research and development is misdirected. It has to look at strategic options at this point, but for something to happen it at least needs a fundamental strength to carry it, and right now it doesn't even have that."