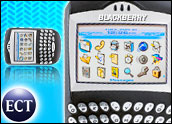 Research In Motion has restored service to millions of BlackBerry users in North America who lost their connections Tuesday night.
The company has not said why its network was interrupted over a period of several hours.
The "root cause is currently under review," according to a statement. "RIM is closely monitoring systems in order to maintain normal service levels."
Shock Waves
The outage — which no doubt pushed more than a few high-charging executive "crackberries" close to their breaking points — also depressed the company's stock price by about 1 percent, albeit temporarily. Trading was almost back to normal by noon on Wednesday.
During the event, service was either delayed or disrupted. Some users reported receiving no e-mails for a period of time, then getting several e-mails in one batch. There were reports of problems in Hong Kong, although the large majority of affected customers appear to have been in North America.
What was unique about this outage was its length, noted Ahmed Datoo, vice president of marketing at Zenprise, which provides an automated service-management application for enterprise BlackBerry environments.
"In general, these networks are fairly reliable," he told the E-Commerce Times. "If there are outages, they tend to be short in duration."
Total service restoration is likely to take some time, observed Carmi Levy, senior research analyst with Info-Tech Research Group, as RIM will have to turn service back up incrementally to allow the servers to disperse backed-up e-mails gradually.
"It's called 'load balancing' and is the normal procedure to follow when there's been a service interruption of this nature," he explained.
Longer View
BlackBerry fans will probably forgive and forget this outage, especially if RIM keeps its service running smoothly. One group, though, that may be thinking deep thoughts about its relationship with RIM are the carriers, speculated Funambol CEO Fabrizio Capobianco. Funambol is an open source alternative to RIM that provides e-mail access to cell phones.
E-mail sent through the BlackBerry system is initially routed through RIM's servers, and then completes its journey through the networks of wireless providers, including AT&T, Verizon and Sprint-Nextel, Capobianco explained.
"The problem is RIM is a single point of failure for the operation," he told the E-Commerce Times. "All of the carriers connect to one network. But it is the carriers [that have] SLAs (service level agreements) with customers."
In short, the carriers' brands and reputations are riding on the performance of RIM's servers.
"Carriers trusted RIM with the high-end enterprise market, but it is possible they might not want to do that again when they start to move into the consumer market," Capobianco remarked.