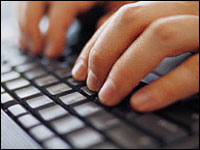 Worldwide PC sales slid more than 8 percent in the third quarter of 2012, according to reports from research firms Gartner and IDC.
The two reports had different leaders in global sales numbers — Gartner had Lenovo taking a narrow lead over IDC's top-seller, HP — but both agreed that PC sales are undergoing one of the most serious declines in the past decade.
IDC and Gartner reported total worldwide sales around 87.5 million units for the third quarter of 2012, with Gartner calculating an 8.3 percent drop in sales from the same time a year ago. IDC showed an 8.6 percent decline from the third quarter of 2011.
Consumers AWOL
Both reports cited a serious drop in consumer PC sales as a reason for the decline, as more consumers turn toward mobile devices over PCs. Even traditional methods of generating sales, such as back-to-school promotions and bundles, failed to drive any significant numbers, said IDC.
Lenovo was at the top of Gartner's sales chart, the first time the company slid into the No.1 spot. With 15.7 percent of market share, Lenovo unseated HP from the top of the market share rating for the first time since 2006. HP had 15.5 percent of the market in Gartner's report.
When CEO Meg Whitman took the helm, she committed to remaining a leader in the PC business, consolidating the PC and printing divisions, leading to a period of restructuring at HP.
It is still the leader in sales, according to IDC, which reported the company took 15.9 percent of the market share, while Lenovo had 15.7 percent. Dell, Acer and Asus rounded out the top five worldwide PC sellers. In U.S. sales, Apple took the third spot behind HP and Dell.
Battling for Top Spot
The reasons for the decline are numerous, but chief among them is the weak economy, said Avi Greengart, research director of consumer devices at Current Analysis. Many users are choosing to replace secondary PCs with tablets and other more portable devices, he said.
Additionally, the third quarter has been a transitional quarter, as consumers hold out for Microsoft's upcoming Windows 8 operating system. The new operating system is optimized for newer consumer devices.
"There is purchase delay with consumers and some businesses waiting for Windows 8 to be released," he told the E-Commerce Times. "This is almost certainly a factor, especially since Windows 8 has a radically different user interface than Windows 7 and benefits from hardware specifically designed for it, such as tablets, convertibles and laptops with touchscreens, and desktops with trackpads or mice with gesture support."
A dramatic redesign, however, won't necessarily be the spark that lifts PC sales out of their slump, said Mikako Kitagawa, principal analyst at Gartner. While the release of Windows might drive vendors to push more Windows 8 products around the holidays, Gartner expects to see some pick-up in the fourth quarter and beyond, but not enough to reverse the downward sales spiral.
"In the third quarter of 2012, channels and vendors want to control inventory before a major launch like Windows 8, especially if it is overlapping with a big PC sales season, like holiday sales," Kitagawa told the E-Commerce Times. "We don't think that the OS release creates additional PC demand. But as we count sell-in shipments, our numbers are affected by supply-side issues such as inventory control. So, channels and vendors will push Windows 8 devices in the fourth quarter of 2012."
Out With the Old?
Lenovo's aggressive pricing and strong worldwide sales helped it take the top spot, according to Gartner. Still, Lenovo's lead is narrow enough that the company still has a lot to prove in order to hold a consistent spot on the leader board, said Kitagawa, although she believes it can remain successful.
"Lenovo was on top, but not in a solid position for this quarter, as the share differences with HP were very small," she observed. "Next quarter will be the real test to see if Lenovo can really be the top vendor or not. Lenovo has a good business model for the PC business which fits very well in the current environment of low margin and high volume market. They can operate with very low margin level as opposed to some of their competitors."
With the current successful business model in the PC market, Lenovo has enough edge over some of its competitors that it could remain a threat to the more traditional PC giants like HP and Dell, Kitagawa noted.
"The challenge for HP and Dell is to have a good balance between profitability and share gain," she said. "You cannot pursue both. This is the major difference between HP and Dell and Lenovo, that Lenovo can live with low margin, but HP and Dell cannot."