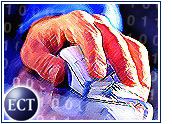 Online auctioneer eBay (Nasdaq: EBAY) and electronics e-tailer X10.com saw big gains in traffic in June, according to monthly statistics released Thursday by Jupiter Media Metrix (Nasdaq: JMXI).
However, the research firm said the rankings are misleading because of the companies' use of pop-up and pop-under ads, which automatically open windows to the sites regardless of whether the user wants to see them.
eBay sites saw 23.3 million unique visitors last month, up 21 percent from May, in part due to a 66 percent increase in traffic to Half.com, its fixed-price site. Half.com used pop-up ads on MyPoints.com and The New York Times Web site.
Because of the ads, "it is impossible to determine whether a user intended to visit a site that is also accessible through pop-up or pop-under pages,"said Doug McFarland, president of Media Metrix, the online ratings division of the firm.
X10 Juggernaut
X10.com, which sells home networking and security devices over the Internet,began appearing on the list of mostvisited properties earlier this year, after it started using the pop-up andpop-under technique on sites including MSN (Nasdaq: MSFT), Yahoo! (Nasdaq: YHOO) and Weather.com. In June, X10.com rose to No. 4 on the traffic charts, up from No. 5 in May.
However, 73 percent of the 28.6 million people who saw the site in May leftit within 20 seconds, and only 2.7 million visitors actually clicked on thewindow or visited the site, Jupiter said. Media Metrix does not report pageviews shorter than two seconds.
"At first glance, X10.com's 10-percent conversion rate appears impressive,"said Jupiter analyst Marissa Gluck. "However, X10.com's number of engagedshoppers, defined as visitors who have spent at least three minutes on thesite, is only 1.2 million, further decreasing its conversion rate to 4.2percent."
Real.com, which launched a pop-up campaign in June, saw traffic rise 17percent during the month to 14.2 million. Pop-ups accounted for about 1 million of the site's total unique visitors, Jupiter said.
Still in Traffic
Jupiter said it will continue to include the pop-up and pop-under ads in itsmonthly rankings. According to the firm, removing the traffic generated by the ads would undermine its "objective, third-partyaudience measurement standards, and would undermine Jupiter Media Metrix'commitment to measuring and reporting Internet and digital media audience usage accurately and consistently."
McFarland said: "As an objective, third-party measurement company, Media Metrix has aresponsibility to include and report interaction with all legitimate Web pages without bias towards content, business purpose, or method of acquiring viewers."
Overall, the Web properties owned by AOL Time Warner (NYSE: AOL) saw the most visitors in June, followed by sites owned by Microsoft and Yahoo!.
Monster.com Grows
Job-search company Monster.com was among the top 50 properties for thesecond month in June, and was the most-visited career site.
Maynard, Massachusetts-based Monster.com also said Friday that it acquired scholarshipsite FastWeb for an undisclosed price. The company said the acquisition"further positions Monster.com as a central resource for career and education information."
FastWeb, based in Skokie, Illinois, provides information about scholarshipopportunities, a personalized college-search function and a direct marketingproduct. Monster.com said one out of three college-bound students registerwith the site, which is profitable.
Monster.com has made a series of purchases this year, most notably its $460 million buy of HotJobs.com earlier this month.