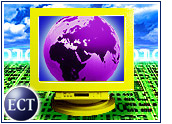 Fewer than 100 of the 500 European business-to-business (B2B) e-marketplaces currently in existence will survive over the coming years, according to a report released Monday by Jupiter MMXI Europe.
Even so, the report predicted that online B2B trade in Europe would grow from US$185 million, or 1.5 percent of all European business, to $1.7 billion by 2004.
The report also identified the 10 strongest B2B e-marketplaces in Europe today. Although these marketplaces cover a variety of industries, ranging from fish to construction supplies, Jupiter said that they share several commonalties.
"These 10 companies are building a solid trading base with a high transaction volume, and creating a web of supportive partnerships with other industry players," said James MacAonghus, a B2B analyst with Jupiter MMXI. "Those players we have identified as early winners in Europe are employing best practices from which other online B2B Net markets can learn."
Top Trader Traits
Despite the dot-com downturn, Jupiter believes that the stronger e-marketplaces will survive and that those that do will share the following traits:
A high volume of transactions. According to Jupiter's report, those Internet marketplaces without a high volume of business today are "unlikely to survive." The report points to several high-volume traders, including Sweden's mobile phone e-marketplace Phonetrade, which transacts over $28 million of business a week, and the UK's BuildOnline, a construction site that is managing projects worth over $116 million.
Industry support. Those e-marketplaces that survive will have the backing of industry leaders, who Jupiter says, will provide "trustworthiness, financial support and a commitment to placing orders."
Integrated offerings. Jupiter emphasized that cyberspace does not exist in a vacuum, saying that in order to gain real world business, Web-based companies must "closely integrate their online offerings with offline services such as full telephone service and local customer support."
Jupiter pointed to several existing e-marketplaces that are integrating their online and offline offerings. One such firm is UK office-supplies e-marketplace Acequote, which offers a callback service. Another example is Belgium fish e-marketplace PEFA.com, which provides a local 24-hour customer service department and links to real-world fish auctions.
Shakeout Survivors
The B2B shakeout in Europe has already claimed several victims, including fresh produce e-marketplace Worldoffruit.com. The company's Irish parent, Fyffes, announced last month that it was scaling back the e-marketplace's activities and cutting staff because of difficulties in finding additional funding.
Another shakeout victim in the UK is e-business infrastructure company Ebeon, which went belly up in January due to a lack of funding.
Despite these casualties, other e-marketplaces in Europe are performing well and have a good chance of surviving.
The top 10 e-marketplaces in Europe, according to Jupiter, are Acequote, Buildonline, and Internet and telecoms bandwidth e-marketplace Band-X of the UK; Dutch medical supply marketplace EumediX; Sweden's Phonetrade and construction marketplace Eu-supply.com; Germany's industrial equipment and supply marketplace Goodex and business supplies marketplace Mondus; Ireland's food ingredients supplier IngredientsNet.com; and Belgium's PEFA.com.
U.S. Not Immune
The U.S. is also set for a B2B shakeout, according to a report released in August by Forrester Research. That report, titled "The eMarketplace Shakeout," said that e-marketplace trade would expand rapidly, but that the market would not be able to sustain all the players and that fewer than 200 would be left standing.
The good news for the e-marketplace players that survive is that by 2004, global B2B e-commerce will reach $2.776 trillion in revenues, according to analysts.