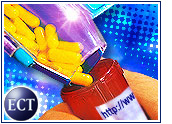 The Internet is fast becoming a mecca for drug traffickers who use it to unlawfully peddle controlled substances, the United Nations' International Narcotics Control Board (INCB) said Wednesday in its annual report.
The report said that some online pharmacies "explicitly" advertise that they provide drugs without prescriptions, or that the pharmacy will issue the prescription on order.
The INCB does not believe that drug traffickers are ignorant of the law. The report concluded that "illicitly operating Internet companies act in full awareness of the illegal nature of their trading."
According to the INCB, online drug traffickers "operate under the assumption that due to the large number of mail internationally shipped, only a fraction of such shipments can be detected."
Exceptions to the Rule
The report pointed out that in countries where geographical conditions make it difficult for traditional supply chains to adequately reach remote parts of the country, Internet sales can be a viable way to ensure an adequate supply of medical provisions for all citizens.
Problems arise, according to the INCB, when international treaties and national laws are circumvented. This occurs when the dot-com in question does not have a license to deal in controlled substances, when controlled substances are sold without a required prescription, and when shipments of prescription drugs are made in mislabeled packages.
Federal Crackdown
The news that the Internet is being used by drug traffickers comes as no surprise to U.S. federal and state officials, who have been aggressive in cracking down on dot-coms that deal drugs without a prescription.
In August, the U.S. Department of Justice and the U.S. Food and Drug Administration (FDA) charged four people and a pharmaceutical supply company with conspiring to sell prescription drugs, including Viagra, Xenical, Celebrex, Propecia and Claritin-D, over the Internet to people without valid prescriptions.
The U.S. Federal Trade Commission (FTC) has also been taking on illegal Net pharmacies. In July, the FTC cracked down on an online pharmacy that was selling Viagra without requiring a medical exam or a valid prescription.
State Action
Not to be left out, state attorneys general across the U.S. have also been suing online pharmacies that sell prescription drugs without a valid prescription.
Already, lawsuits have been filed in New Jersey, Illinois, and Missouri against online pharmacies. Those suits that have been settled have brought hefty fines to the illegal drug sellers and prevented them from doing business in the state that brought the suit.
Border Issues
Although action by the U.S. federal government and state agencies can stop illegal online drug sales within U.S. borders, law enforcement's hands are often tied when drug sales originate abroad.
The ICNB said that even in countries that have taken legal action to prevent the illicit sale of controlled substances online, "different laws and regulations in other countries make it very difficult to consistently identify, investigate, sanction, and ultimately prevent the illicit use of the Internet."
The report recommended that countries explore the possibility of coordinating efforts and establishing common legal standards to crack down on illicit Internet drug sales.
One such case was completed last year when U.S. and Thai officials combined forces to shutdown three Thailand-based Internet pharmacies that were illegally exporting drugs to the U.S.