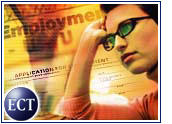 The number of dot-com job cuts fell for the second month in a row and reached the lowest point since November, according to a report released Tuesday by Chicago, Illinois-based executive search firm Challenger, Gray & Christmas (CGC).
CGC reported that 31 percent fewer employees got pink slips from their dot-com employers in June than in May. A total of 9,216 job cuts were reported in June, compared to 13,419 in May.
"I feel like we are nearing the back end of the shakeout," CGC chief executive officer John A. Challenger told the E-Commerce Times.
However, Challenger added that there would always be job cuts as the sector continued to grow and mature.
"The larger dot-coms, many of which are virtual extensions of brick-and-mortar businesses, have been able to survive — albeit tenuously — due to the life support provided by the primary, Old Economy division of the company," Challenger said. "However, these larger dot-com (and) Old Economy companies have been unable to escape the slowing economy and are increasingly turning to job cuts to contain costs."
Still More
Even though the total number of job cuts is dropping, June's job cuts were still more than five times as many as the 1,652 reported in the year-earlier month, near the start of the dot-com shakeout.
Over the past six months, 74,199 dot-com job cuts have been reported — 80 percent more than all of the dot-com layoffs in 2000.
Dot-com job cuts set a record in April when 17,554 dot-com employees lost their jobs.
E-tailers: Cut Here
E-tail job cuts dropped by more than half in June, falling from 310 to 127. In April, e-tail job cuts soared to 2,284.
"I think much of the shakeout occurred as mom-and-pops were bought out," Challenger said.
According to Challenger, e-tailing was "sorting itself out" and there were some e-tailers that "just can't make it."
Challenger told the E-Commerce Times last month that it was inevitable that e-tail layoffs would start to slow down once the field was cut back to "companies that have models that will allow them to be profitable."
Tech Sees Pink
Technology firms that provide infrastructure support to other dot-coms led the pink slip parade with 5,817 announced job cuts, CGC said. June was the fourth consecutive month in which infrastructure firms posted the highest number of layoffs.
Other sectors seeing high numbers of job cuts include professional services firms, which saw 1,185 jobs slashed, and customer service firms, with 1,130 job cuts.
Hard Hit
Companies announcing layoffs this month include women's online network iVillage, which announced last week that it would reduce its head count from somewhere in the "high 300s" to fewer than 200 employees.
iVillage said that the "rightsizing" was necessary to eliminate redundant jobs created by its US$20 million acquisition of rival Web site Women.com.
Business-to-business (B2B) e-commerce company PurchasePro (Nasdaq: PPRO) said last week that it was slashing its workforce by approximately 50 percent, as part of a new cost control program. When the job cuts are complete, PurchasePro will have fewer than 300 employees.