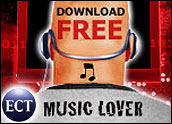 Qtrax, a new ad-supported music downloading service, has made a splash in the online music industry — although it's debut was likely not quite what it had envisioned.
The company previously reported that it had signed license agreements with the major music labels — a coup that would have allowed users to download about 75 percent of most available music for free.
The One?
Its business model is yet another test case in a still-emerging niche. Most online music purchases are either through a site such as iTunes, which retails songs for 99 US cents, or through a subscription service. No path has yet been crowned "the one" model to dominate all. Indeed, Qtrax's previous incarnation was as a paid model.
The company's Monday launch of an ad-supported site quickly unraveled, as music studio after music studio denied having entered any license deals with the company.
Warner Music Group and Sony BMG Music Entertainment both told reporters that they have not agreed to license their songs. Universal Music is also reportedly not in a deal with the service. EMI Group's status is still vague: Its song-publishing unit reportedly has an agreement with Qtrax, but EMI Music, its recorded music division, does not.
Untested Model
It would have been interesting to see whether there might be room for a free, legitimate music download site, said Yankee Group analyst Mike Goodman.
"It could still happen, of course, depending on how talks with the studios work out," he told the E-Commerce Times.
Success Factors
The free model is not only is untested but is launching in an uncertain economic environment. Even in the best of times, it would have been a dicey proposition to be able to make enough ad revenue to offset the license fees with all of the major music studios, Goodman said.
"Still, there is a fair amount of interest in the model," he noted. The radio business — free music supported by advertising — is the typical success case that others are looking to emulate.
Even studios have something of a vested interest in seeing it develop, as it would compete with illegal peer-to-peer music-sharing sites.
Another success factor — clearly now in doubt for Qtrax — is whether a service can offer an extensive library of available music.
"If something — especially a popular song — is not available, it will turn off a user," Goodman remarked.