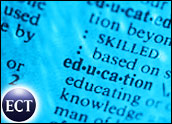 Click2learn.com, Inc. (Nasdaq: CLKS)was down 3.00 at 6.50 early Tuesday after the company said fourth-quarterresults will fall short of analysts' estimates.
The Bellevue, Washington-based provider of online training services saidrevenue for the quarter will total about US$11.2 million, up from $9.6million in the same quarter a year earlier. The company expects a pro formaloss of 25 to 27 cents per share, compared with a loss of 20 cents in theyear-earlier quarter and against analysts' expectations of a 20-cent loss.
The company plans to report results on January 31st.
Click2learn said revenue was hurt by orders that were delayed, lowered invalue or not closed in the quarter, "partially due to customer caution withcurrent economic conditions."
The company said it expects those conditions to persist into the firstquarter, resulting in revenue of about $10.4 million for the quarter, upfrom $9.9 million in the year-earlier quarter, and a loss beforeextraordinary items of $4.3 million to $4.5 million.
For the full year, Click2learn expects revenue to rise about 17 percent to$50 million, and a pro forma loss of $12 million to $13 million.
"Although we are disappointed that our revenue growth and earnings per sharedid not match expectations, we can point to several orders that had a directimpact on our performance," said chief executive officer Kevin Oakes. "Whilesome of these orders may have been affected by the overall state of the economy, webelieve that there are a number of issues within our control we can addressthat will improve our performance."
Oakes noted that the company has "taken several organizational steps" to boostsales and benefit investors.
Click2learn said it has working capital of about $21 million, with about $15million in cash and cash equivalents. The company also said it still expectspositive cash flow in the first quarter of fiscal 2002.
Click2learn provides online learning and management tools to companiesincluding Microsoft, Fidelity Investments, Lucent Technologies and GeneralMotors.