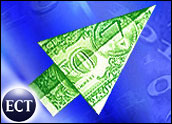 Lending Tree, Inc. (Nasdaq: TREE) was up 0.06 at 3.25 Wednesday, building on a Tuesdaygain, after the online lending company said it will post a profit — beforeincome taxes, depreciation and amortization — by the first quarter of 2002,five months earlier than previously expected.
The Charlotte, North Carolina-based online loan marketplace and loanexchange technology provider said Tuesday that its revenueper customer exceeded the cost of acquiring a customer for the first time in November.
For 2001, the company expects a loss before taxes, depreciation andamortization of US$33 million, 27 percent better than previously thought.Revenue, meanwhile, will double, said chief financial officer Keith Hall.
After the close of trading, however, officials said the company will need toraise cash in the future. With about $12.5 million in cash as of year-end2000, Lending Tree will need about $25 million in "incremental investment"to cover its loss for this year, said Hall.
"Consumers and lenders have embraced our marketplace as an effective way toborrow and lend money," said chief executive officer Doug Lebda."Consequently, we continue to meet or exceed the targets that we have setfor our key operating metrics. The achievement of a positive variablemarketing contribution five months earlier than we projected has contributedsignificantly to our revised favorable outlook for 2001 and beyond."
Noted Hall, "The majority ofour revenue will continue to be derived from our exchange, and we areconfident about thecontinued acceptance in the industry and our success in licensing our Lend-Xtechnology."