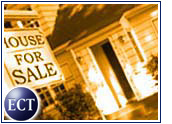 Despite consumer concerns over potential lapses in Internet security, 51 percent of Americans believe that most home mortgages will be handled online by 2005, according to a study released Wednesday by financial services giant Fannie Mae.
The company, which surveyed over 1,600 home owners and renters, also found that many potential home buyers view the Internet as an easier way to compare rates and submit applications.
About 28 percent of the respondents said they would definitely or probably use the Internet to apply for a mortgage, up from 20 percent four years ago. Fannie Mae attributes this shift to the mushrooming use of personal computers.
Again, Happy Days Are Here
"For the first time, the survey uncovered a perceptible and positive shift in people's view of the Internet and their willingness to use it to purchase a home," Fannie Mae chairman Franklin D. Raines said.
Today's strong housing market, combined with the reduction of other barriers to home ownership, such as the difficulty of saving for a down payment, are contributing to the rosy outlook, Fannie Mae said.
Closing the Deal
Although users are growing increasingly comfortable with navigating their technological options, the Internet is still predominantly viewed as a source of research and information for getting a mortgage, the study found.
Only one-third of those surveyed currently consider the Internet a viable method for securing financing, while 22 percent said the Web is a useful tool for getting final approval of a loan.
Keeping it Real
For those who recently purchased a home, the split between research and deal-closing is even wider. While 56 percent mined the Web for information, only 4 percent of recent buyers applied for a mortgage online and a scant 2 percent completed the entire approval process over the Internet.
Over 81 percent of respondents said they would prefer to use a traditional bank that has a solid reputation to apply for financing — even if the bank is not an expert in online transactions — rather than a pure-play Internet company.
Notable Companies Enter Field
These figures probably will not dampen the drive of online mortgage lenders to get in on the act. Among the recent high-profile entrants into the field are American Express Financial Services, Microsoft and Priceline.com.
Government-chartered Fannie Mae has conducted the annual National Housing Survey since 1992.