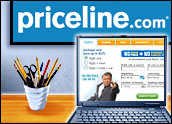 Priceline is picking up the travel search engine Kayak for US$1.8 billion in a deal expected to broaden its mobile offerings and help it fend off unwelcome competition from new entrants to the online travel space.
Kayak allows consumers to shop and compare prices on multiple travel sites, earning a referral fee for the sale.
Founded in 2004 by a group of executives from Orbitz, Travelocity and Expedia, Kayak went public in July. It will continue to operate independently after the acquisition is complete.
Kayak said it was looking forward to joining the "world's premier online travel company" for help expanding overseas.
Price Premium
Priceline agreed to pay $40 per share for Kayak, nearly $9 above its closing price on Thursday. Priceline's shares were down more than 1 percent in after-hours trading and continued to decline in Friday morning trading.
The deal has yet to meet regulatory and shareholder approval, and Priceline expects it will go through toward the end of the first quarter of 2013.
Priceline and Kayak did not respond to our request to comment for this story.
Good Deal?
Priceline doesn't usually splurge on acquisitions — so far it's made four: Agoda.com, Booking.com, TravelJigsaw and Active Hotels, said Zeus Kerravala, principal analyst at ZK Research.
"Priceline has shown it's an astute acquirer of other online travel resources, such as the acquisition of bookings.com to help it expand into Europe," he told the E-Commerce Times. "Kayak is widely regarded as having the best underlying technology platform as well as outstanding customer service."
Additionally, Kayak's business model will help Priceline diversify its revenue options and help it develop as a travel provider both domestically and internationally, said Norm Rose, president of Travel Tech Consulting.
"Kayak is a metasearch model, which drives traffic to other sites, not an online travel agent," he told the E-Commerce Times. "This provides Priceline with a different source of revenue in more of a traditional media model. Metasearch is growing globally, and the acquisition enables Priceline to participate in the metasearch arena around the world."
Ultimately, the relationship between the two sites can be mutually beneficial if it's done right by both parties, said online travel consultant Steve Evans.
"Priceline could become one of the many sources that Kayak refers its users to, and will be able to control where the traffic goes and leverage Kayak as a source of traffic now if they want to, although that's by no means certain as it could put off some users," he told the E-Commerce times. "Conversely, Kayak can help Priceline with technology, perhaps integrate metasearch into the Priceline experience as other players like Travelocity and Expedia have tried to do."
Evolving Industry
Another critical part of the Kayak and Priceline equation is mobile. With the rise of smartphones and tablets in planning, shopping and purchasing travel packages, it's a smart move by Priceline to acquire a company that has been an industry leader in navigating that new platform, said Rose.
"I don't believe you can evaluate the acquisition without considering the influence of mobile," he noted. "As mobile overtakes online sometime in the next five years, Priceline is now in a better position to offer pure search on those devices in addition to the online travel model. Mobile is both un-tethering and elongating the travel planning cycle. Though not the primary driver for the acquisition, bringing Kayak into the Priceline family can help defend against Google and Apple becoming the gatekeeper to mobile travel transactions."
That defensive move could be part of a larger trend of consolidation within the industry and the desire to make buys before competitors can leap, said Rose.
"No doubt consolidation will continue in the industry, and Priceline's diversification strategy helps it maintain a dominant position worldwide," he pointed out.
Priceline recognizes it needs to develop as that model changes, putting it in a good place if it can make the most of the Kayak buy, said Evans.
"The most interesting prospect would be a merging of travel agent and meta-search technologies, offering the customer more choice, through a highly innovative user experience and allowing suppliers to play as a product source or as a referral destination to allow them to own their customers a little more than they perhaps do today," he noted. "Whether that would happen is difficult to say, but it could bring a new model into play that would put Priceline in a unique position in the industry."