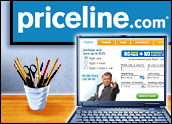 As I got ready to jump off at the next stop on my whirlwind tour oftravel-planning Web sites, I found myself in the grip of something close to excitement.
All the sites I previously visited for this E-Commerce Times review series were virgin territory for me, except for one that I hadn't used in more than a year.
Trying out Priceline.com was going to be a new experience for me as well — but it already felt familiar, thanks to my beloved William Shatner (hello, fellow Trekkies) and his branding of the site.
Thus, I came to Pricelinewith more than a hazy sense of its core competency. Based on the ubiquitous commercials I'd been exposed to, I was looking forward to — indeed, expecting — all kinds of deals.
I logged on and, sure enough, there he was — there three of him were, in fact. However, I soon discovered that Priceline was not relying solely on Shatner's image and outsized personality. An initial scan revealed that it met all of my minimum design requirements: no clutter, easy layout and, as a bonus, a soothing blue background.
$50 and Dropping
Although Priceline was letting users purchase listed flights, I was there for the red meat — the point of all those ads I've absorbed. I wanted to name my own price, and I wanted to go as low as I could. I blithely typed in US$50 for a round trip ticket between Baltimore, Md., and Phoenix, Ariz., not expecting to score a deal.
I was right — but I wasn't far off. For $89.25, there was an airline willing to transport me nearly across the country. It seemed unbelievable, so I tried again: I wanted a ticket to New Orleans departing Feb. 12 and returning Feb. 17 — Mardi Gras weekend — for $25. Up came a $39.25 option, and bingo, I was in.
Or was I? I went into this understanding that the "name your own price" feature would come with caveats that could dismay a set-in-her-ways traveler — such as little control over departure times, seat arrangements or even carriers. Still, to find out if my bid would really have been accepted, I would have had to input a credit card number. I'm a proponent of service journalism, but that was a step I was not willing to take. If my bid were rejected, could I try again? Was there a step along the way when I could cancel the purchase before the final deal-closing click?
Priceline did not provide much in the way of guidance about what would happen next in the far-too- short FAQs — a big negative point for a site largely based on self-service. The customer service number was of little help — it wouldn't accept a call unless there was a valid submitted request. No amount of hitting zero got me to a human.
Not Impressed
Very well — on to other parts of the site. In line with its promise of helping customers score the best deal, Priceline did offer several features designed to just that — including a fare watcher and a section on last-minute deals. Those looked undeniably good: I spotted one from Atlanta to Las Vegas for $139 one-way. I type in my requested dates (Oct. 31 to Nov. 6) and pulled up a range of to and from selections; no combination came close to $280.
The "no booking fee" promise, which was peppered liberally throughout the site did not impress me — this is a pretty standard offer for a travel site. Nor was I impressed — not favorably, anyway — by the pop-up that suddenly too over my screen, telling me that Priceline customers were at that very moment saving 40 percent on trips to Las Vegas.
I tried again to come up with a one-way ticket from Baltimore to Boston for $39 only to find myself confronted with a $144 round-trip ticket. Okay, all of the sites pull this kind of sleight-of-hand to a certain extent. However, Priceline's marketing — I began to realize — had greatly inflated my expectations of all the bargains I would get.
I knew from my grand tour of travel sites that careful shopping could, in fact, net a round-trip, cross-country ticket for $250 or so at the time of my search. I didn't need to go to a discount site to buy it.
Other features on Priceline.com looked good from a distance but then disappointed close up. A link asking me about travel preferences took me to a field with questions about my seat and meal preferences. What was the point of that? If I were buying a cheap, "name your own price ticket" I assumed I would be lucky if I weren't sitting out on the wing. If I were buying one through Priceline's stated fares, then I could make my choices as part of the transaction, assuming the airline in question would allow me to.
Seriously – the Willard?
Ditto for the travel guides offered. A look in the U.S. cities section yielded lists of hotels, restaurants, etc., recommended by the site — standard fare that a Google search could also pull up. I chose Washington, and the first recommendation in the hotel section was the Willard, a five-star-plus hotel in Downtown D.C. that was being advertised in a range "from $236."
My first thought about that offer was that maybe the Willard's management might let me use the lobby's bathroom for $236 in an emergency situation, but there was certainly no way I could get a room at that rate. Sure enough, as I went through the motions of booking a room at the hotel, the cheapest deal Priceline could get for me, within the same date range of Oct. 31 to Nov. 6, was $554 per night.
Priceline was supposed to be the cheapest of the cheap, if the advertising could be believed. However, it didn't provide a tool for comparing the deal I was offered with, say, the rates offered by Expedia or Kayak — at least not one that I could easily find.
Bottom line for Priceline.com: It may or may not be cheaper than buying from a standard travel aggregator. If it is, then I'll bet it's not by much. Either way, my experience using the site was so frustrating, I'd rather shop elsewhere.