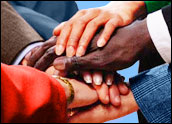 Facebook and Twitter must have felt like the belles of the social media ball Wednesday. Both companies announced agreements with search engine suitors Google and Microsoft's Bing to integrate their status updates and tweets into search results, bringing with them the likelihood of more real-time results to search queries and conjuring up visions of next-level information gathering on the Internet.
Although both search engines used the Web 2.0 Summit in San Francisco to announce the news, Microsoft's Bing was first to tell the audience that it had sealed a deal with Facebook and Twitter, and it was also the first to take the Twitter part of the arrangement live.
Afterwards, Google executive Marissa Mayer took the stage to demonstrate her company's intentions to blend a user's social networks, and the relevant links from them, into search results via Google Social Search, a work in progress.
"Her demo revealed some of the ideas we're exploring to help people discover relevant Web content from their friends and broader network of contacts," Google spokesperson Jake Hubert told the E-Commerce Times. "As Marissa said today, we will be releasing a product soon for people to try, and we will have more details to share once it's available."
Yet Google also told the Summit audience it has its own deal with Twitter, available for users sometime in the near future. "We want to take advantage of the fact that there are these new short-form Web publishing modes, of which Twitter is at the forefront by far, and make use of that to make searches up-to-date, by the second — what we think of as real-time," Google Group Product Manager Jack Menzel told the E-Commerce Times.
Coincidental Timing
Facebook's status updates will start showing up on Bing searches after the first of the year, according to Facebook spokesperson Kathleen Loughlin. "Today we announced that we are working with Microsoft to make status updates that Facebook users choose to make public to 'everyone' on Facebook also available in real-time through Bing search. With this partnership between Facebook and Bing, search becomes more relevant and social than ever, giving people the ability to discover what's happening in the world right now," Loughlin told the E-Commerce Times.
The key phrase from the Google and Facebook spokespeople — "real-time" — is what could reshape the search experience, according to IDC analyst Caroline Dangson. "The Web keeps moving to a more social place. The search engines we have today are set up for static Web sites. This is important for them to try to incorporate this social medium into their searches, to recognize the Internet is so much more dynamic today. It's an important recognition on their part."
Google news searches, and for that matter its Web site searches, change by the minute, Google's Menzel said. The idea that the tweets themselves provide most of the value in this arrangement is short-sighted, he added — it's also about the links. "If you just look at the tweets and don't look at people publishing Web pages and blogs and news articles, all kinds of content — people are posting videos — getting that information and making it available the second it's publicly available, that's the essence of real-time. It's also a signal that people are talking about these kinds of things."
Following the Links – and the Money?
Integrating micro-blogs into search results takes a lot of time, Menzel said, and his company's announcement coming on the heels of the Bing news is "absolutely not a knee-jerk reaction to Microsoft and their deals." He also declined discussion of any revenue agreements. "It's still to early to be able to tell the advertising implications of this kind of new technology and smaller form publishing formats."
No money changed hands for Facebook's transaction with Bing, Facebook's Chief Operating Officer Sheryl Sandberg told the Web 2.0 crowd. However, that wouldn't rule out future revenue-sharing opportunities focused on advertising, IDC's Dangson said.
In any event, the deals might be the answer to all the rumors circulating in the spring regarding possible buyouts of Facebook and Twitter by Microsoft or Google. Twitter clearly wanted to stay independent, considering the amount of money it has raised independently, so that it could continue to innovate on its own.
"The amount of time, especially the younger generation spends on these sites, and they're performing searches within them — if [Google] can still drive traffic to their site and still tap into social networks, that's pretty interesting. They're trying to play in that space, since they weren't able to acquire Twitter themselves," Dangson told the E-Commerce Times.