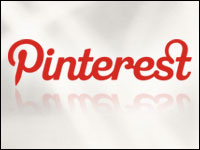 Pinterest on Thursday announced that it would begin experimenting with promoting certain pins from a select group of businesses.
The announcement came via a blog post from CEO Ben Silbermann, who hastened to assure the site's users that this move would not be a descent into ad madness.
"I know some of you may be thinking, 'Oh great … here come the banner ads,'" he wrote, "but we're determined to not let that happen."
To that end, Silbermann promised that the ads will be "tasteful," with "no flashy banners or pop-up ads."
The ads will also be transparent, and viewers will always be informed when they are viewing paid promotions, he promised.
The ads will be relevant as well — that is, they will be marketing products the viewer actually is interested in — and will be improved upon feedback, too.
Pinterest is now rolling out just a few promotions in search results and category feeds, he said — but no company is paying for any placement yet.
"We want to see how things go and, more than anything, hear what you think," Silbermann concluded.
A Pinterest spokesperson was not immediately available to provide further details.
Good News for Retailers
Even with its slow approach and restrictions for advertisers, the announcement is good news for retailers.
"There is definite potential for promoted pins to be successful, especially for businesses looking to showcase their wares," Chelsey Binkley, social engagement coordinator at Engauge, told the E-Commerce Times.
"For retail and fashion brands that already use the platform to drive discovery to their products and e-commerce sites, this will make for a great extension of their Pinterest efforts," Binkley added.
Certainly demand will be strong on the part of retailers, who have been paying attention to Pinterest users' propensity to shop, Christopher Penn, vice president of marketing technology at SHIFT Communications, told the E-Commerce Times.
"According to research firm Edison Research, 27 percent of Pinterest users have made a purchase based on a pin they've seen," Penn said. "If Pinterest can work sponsored pins into relevant pinboards in an appropriate way that doesn't alienate users, they're going to be quite successful at their advertising program."
'The Risk of Significant Backlash'
Not everyone foresees smooth sailing for Pinterest's monetization plans, however.
The site has no advertising to speak of at the moment, "so it's going to be a bit of a shock to users when they first start seeing promoted pins," noted Keith Trivitt, director of marketing and communications at MediaWhiz, for example.
Another challenge "is the risk that advertising poses to Pinterest's carefully cultivated network and image as a user-friendly platform," Trivitt pointed out.
"While advertising has many benefits to both brands and consumers, any time you place ads on a site or social network that has largely built up its user base around the fact that it is ad-free, you run the risk of significant backlash," he explained.
All that said, however, Pinterest's slow approach should go far to address these concerns, he continued.
"By starting with promoted pins in search results, rather than dropping ads or advertiser messaging directly into a user's feed, Pinterest in working to ensure that its community comes to trust its advertising efforts as a means of building and monetizing Pinterest," Trivitt said.
'Aspirational Purchases'
It also helps that Twitter and Facebook plowed the road ahead for Pinterest, said Chia-Lin Simmons, vice president of marketing and content at Harman International.
"Twitter and Facebook opened the way to native advertising and promoted content in their service, and Pinterest is following suit, so I think there will be little backlash from consumers," Simmons told the E-Commerce Times.
In fact, in many ways, there is more risk to Twitter and Facebook with native advertising, she suggested.
"Consumers use Pinterest to capture interest, and often from an e-commerce perspective, they are using Pinterest boards to bookmark 'aspirational' purchases," she explained.
Consider a consumer who is using Pinterest to post what she would like one day in her would-be living room, Simmons suggested. Having promotional pins from Crate and Barrel or Design Within Reach would not necessarily be an affront.