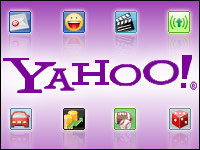 Weeks after Marissa Mayer was hired as the new CEO of Yahoo, her predecessor has stepped down.
No, not Scott Thompson. He left in May amid a resume scandal involving a false computer science degree.
Yahoo's latest defector is Ross Levinsohn, the person who briefly held the position of interim CEO of Yahoo after Thompson was pushed out.
Levinsohn ran the company's media, business development and sales operations. Levinsohn did not announce any plans for his professional future.
Before he joined the company in 2010, Levinsohn worked in the media industry for Fuse Capital and Fox Interactive Media at News Corp. He had particular success negotiating revenue gains for the once-prominent social network MySpace.
Levinsohn did a great job as interim CEO and kept the company moving during a transition period, Mayer wrote in a company memo reprinted by AllThingsD. She wished Levinsohn well but did not indicate where she might look for his replacement, whether one will come from within Yahoo's ranks or if she plans to pick executives from her former company Google.
Yahoo did not respond to our request for comment.
No Go if Not CEO
Given that Levinsohn was not picked as the company's next chief executive, his departure didn't come as much of a surprise, said Joseph Pastore, professor emeritus at Lubin School of Business at Pace University. But the initial buzz at bringing in Mayer was surprising and exactly the reaction Yahoo wanted, he said.
"Some say it was a bit of shock," he told the E-Commerce Times. "Shock is apt. This appointment is all about shock, contrarian behavior, new direction, transformation."
Yahoo leadership probably felt it needed an announcement that could breathe new life into the company rather than have a familiar, albeit knowledgeable, face take over as its permanent leader, said Pastore.
"To move from interim CEO to permanent doesn't have quite the same sizzle as pulling in a fresh face," he said. "Also, Yahoo doesn't have the financial resources nor the revenue momentum it will take to achieve a turnaround. As such, it's best chance is strategic renewal — probably in the form of penetrating its strongest suit, which is its global brand, and also energizing its tired and pale image."
Energy Can't Do It All
That energy is what the struggling company needs, said Brian Wieser, analyst at Pivotal Research Group, although it probably won't be a cure-all. The Internet pioneer has fallen from its golden days and now faces competition from Google, Facebook and other Internet giants in web presence and advertising. While Levinsohn may have been better technically suited for the job, it's possible he wouldn't have given the company the sparks it needs to enter a new growth phase, said Wieser.
"With their core operating business, there is a very limited range of growth plausible even under the most realistic of circumstances," Wieser told the E-Commerce Times. "There is a limited ability for even the best leader to overcome. To that end, I can see how the board could iterate that the business needs to be taking someone in new directions. Levinsohn may have a greater knowledge of their core business, but he has been passed over for that job on two occasions and understandably wants to move on."
Mayer already seems to have employed some methods of breathing fresh air into the company. She instated free lunches, better swag and put an emphasis on hands-on staff meetings on Fridays — all similar to characteristics found at Google. Morale-boosters are important for a company that has undergone executive CEO and layoffs recently, but they will ultimately be useless if Mayer can't also energize the company's bottom line, said Wieser.
"Levinsohn may not have had such a favorable impact on morale," he said. "But his orientation is where the business is, so it can be a double-edged sword. It's great to celebrate the company and all things product, but we have to hope they don't forget what business they're in. They need to figure out how to triangulate the Yahoo portal, its cash pool and the Asian assets to grow something out of Yahoo Inc."