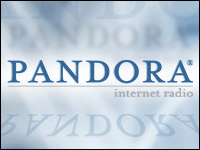 Pandora's boost in Q1 revenue, thanks largely to an increase in subscribers who want to listen to ad-free Internet radio, helped the streaming media company turn in a quarterly report Thursday that beat expectations.
The Internet radio service reported US$126 million in revenue, a 55 percent increase from the same period last year and higher than the $124 million analysts predicted. Its total revenue per thousand listener hours — an important metric as the cost of licensing music rises — grew from $26.09 a year ago to $30.01 for the quarter.
The company's total listener hours were also up, rising 35 percent to 4.18 billion.
For the quarter, Pandora lost $28.6 million, or 16 cents per share, compared to the $20.2 million, or 12 cents per share it lost during the same period a year ago. Excluding certain items, the company said it would have lost 10 cents a share, which was about in line with analyst expectations.
Investors initially seemed pleased with Pandora's earnings. The stock surged by more than 9 percent in after-hours trading to close at $17.16 Thursday. It continued its upswing going into Friday morning, trading as high as $19.37, before falling back to hover around $17.10 going into the afternoon.
Pandora did not respond to our request for further details.
Balancing Costs
Much of Pandora's revenue growth came from its increase in mobile users, which is becoming more important for the company as consumers tune into digital entertainment via tablets and smartphones.
Total revenue from mobile devices nearly doubled during the quarter to hit $83.9 million. Mobile listening hours were also up 47 percent.
Pandora credited its strong performance in mobile with the 40-hour cap on listening that it implemented in February. The company said that in addition to helping it cut back on royalty fees for heavy listeners, the monthly limits have also helped boost paid subscriptions for mobile users, who can pay $4 per month to listen ad-free.
It's too early to tell whether that strategy, which might slash costs but could also alienate longtime or heavy listeners, will pay off in the long run, said Rich Tullo, senior financial analyst at Albert Fried and Co..
"We won't be able to see until the second half of the year how well that is going to work," he told the E-Commerce Times.
That long-term question is going to be critical if the company wants to remain sustainable going forward, said media and entertainment analyst Grant Goddard.
"What holds back online radio at present are the high costs of using music copyrights," he told the E-Commerce Times. "There is no real future for a business in which increased consumer usage leads to greater operating losses rather than greater profits. That bottleneck has to be removed before online radio can come of age."
Staying on Top of the Game
Aside from balancing its costs from within Pandora, the company also needs to remain competitive in a landscape that is growing daily.
Smaller competitors such as Spotify are hitting the ground running , but tech giants also seem to want a piece of the market. Google recently launched its All Access streaming radio service, and Apple is expected to debut a radio feature by the end of the year.
It's no surprise that other major Internet players would want in on the game, said Tullo. The market for streaming radio — which relies mainly on revenue from advertising — is ripe for long-term growth. If consumers continue to tune in from their smartphones, marketers are going to be clamoring to run cheaper and more direct ads via apps such as Pandora.
More ads during listening could mean Pandora gets two steady revenue streams — advertisements and the increase in subscription services from users who only want music.
"In the long-term, this is going to be a dynamite industry," Tullo said. "The mobile ad for this area is directly translateable from a traditional ad environment, but it's cheaper, so it's good for long-term ad buyers. And there's a virtuous cycle between ads and subscription rates — if there's more advertising, there are usually more subscriptions."
Retaining market share will be one of Pandora's main goals, he added. The company has the advantage there now as well as the economies of scale that its smaller competitors don't have. However, it is going to have to find a way to keep licensing costs down while growing the user base.
"The real question here is how strong Pandora is against real competition," Tullo said. "If they don't improve things significantly on the margin side, they're going to have to go back to the market to raise capital. We shouldn't get emotionally excited about this quarter, because it's one we've seen coming down the pipeline for some time. Now we have to look at Pandora with open eyes and talk about its real industry prospects, and there's nothing too exciting going on in that regard."