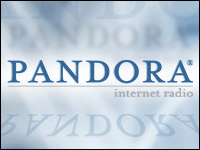 Pandora exceeded Wall Street expectations with its quarterly earnings report Thursday, sending the company's stock soaring. The streaming music service still faces the inherent challenges in its sector, however — namely rising royalty costs and how to monetize a mobile presence.
In addition to the earnings report, CEO Joe Kennedy announced he will be stepping down. Kennedy, who has been in place since 2004, oversaw Pandora's rise as one of the dominant radio streaming services in both the desktop and mobile arenas.
The streaming radio service reported 2012 revenue of US$427.1 million, a 56 percent increase year-over year. Pandora brought in $125.1 million in the fourth quarter of the year, a 54 percent jump from the same time a year ago.
The company also said it is confident about its ability to monetize its mobile offering, which is increasingly important for Pandora as more listeners are tuning in via tablets and smartphones. It reported that in 2012, as mobile listener hour growth grew 89 percent year-over year, Pandora earned $255.9 million in mobile revenue, a 105 percent increase from a year earlier.
Pandora's stock skyrocketed following the earnings report, jumping more than 20 percent in after hours trading to above $14. Shares dipped slightly after Friday's open but continued to trade around $13.89.
Pandora did not respond to our request to comment for this story.
Moving On with a New CEO
Kennedy was vague about his reasons for the departure, saying that he was proud of what Pandora had accomplished and that it was time to move on.
During a conference call following the earnings report, Kennedy also said that as his 10th year at the company was starting, he thought it would be good to get to a "recharging station sooner rather than later." He will remain with the company until it finds a successor.
"Joe did a great job of taking them through the stages of the company," Mike McGuire, vice president of media research at Gartner, told the E-Commerce Times. "At first it was an interesting idea but not quite a company, and he helped them get mature and drive revenue."
While investors seemed pleased with Pandora's latest report, the company still faces major challenges in what is still an evolving space, said Mark Mulligan, media and technology analyst at MIDiA Consulting.
"There is clearly a major discrepancy between Internet radio and terrestrial radio, and this is a core issue that the music industry needs to address," he told the E-Commerce Times. "Now as fewer people buy music, the radio is increasingly becoming the destination as well as the journey. Pandora represents part of what the future of radio will be. The underlying fundamental is that radio needs to continue to evolve, and the industry needs to develop a consistent vision for radio across all platforms."
That uncertainty about the future of the space is highlighted when reports surface about larger tech companies possibly getting in on the action, said McGuire.
"You can see the volatility in the space when every month there is a new rumor that Apple or Google is going to start a streaming service," he observed. "It's good for the whole category to keep it competitive, but the threat of whoever is going to replace Kennedy coming in and not being able to move to the next stage of the company is not insignificant."
Music Negotiations Getting Tougher
Kennedy's successor will face a difficult task making sure Pandora can have a role in the industry's evolution, McGuire noted. Pandora's efforts to establish itself as the premiere streaming destination, before a competitor can come in and steal its thunder, would be difficult enough without the rising cost of royalties.
"It's going to continue to be their biggest challenge — getting licenses, negotiating with labels and publishers," he said. "And Pandora's next challenge is going to be, at the same time, to try to expand internationally and better monetize with mobile."
Pandora acknowledged late last month the challenge with increased royalty costs; it announced that it was reinstating its 40-hour per month listening cap, this time for mobile users. Listeners that hit it can pay $.99 for unlimited access for the remainder of the month, or sign up for its $3.99 per month subscription service that also lets customers avoid commercials.
Pandora lifted its cap in 2011 for its desktop services, but said its mobile space was now the area that needed money.
Opportunities to grow remain. With a business model based on drawing users away from other streams, however, and having to constantly negotiate for lower content costs, Pandora likely has a rocky road ahead of it, said John Lund, president of Lund Media Research.
"Pandora is not radio, but it is designed to attack radio and take listeners away. That didn't happen," he told the E-Commerce Times. "We've seen it before, with XM and earlier the iPod, when a non-radio person designs a system or technology that will take listeners away from radio. TV didn't do it. XM and Apple didn't do it. And Pandora's attack may be destroyed by music rights."