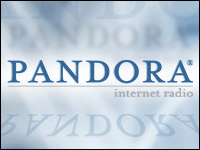 Speculation about Pandora's future is running high again with the company's release of its Q3 earnings and, more importantly, guidance for the fourth quarter and fiscal year 2013.
For the third quarter of fiscal 2013, Pandora posted total revenue of US$120 million, a 60 percent year-over-year increase. Advertising revenue was $106.3 million, a 61 percent year-over-year increase. Subscription and other revenue was $13.7 million, a 52 percent year-over-year increase. It reported a profit of $2.1 million, or a penny a share, up from $638,000 a year earlier.
For the fourth quarter, however, Pandora is projecting a non-GAAP loss of 6 cents to 9 cents a share. Its guidance for fiscal year 2013 is a non-GAAP loss ranging between 9 cents and 12 cents per share.
The fourth quarter and fiscal year 2013 will be slow periods, according to statements made by CEO Joe Kennedy, because Pandora's advertisers are holding back due to the economy in general and the impending fiscal cliff in particular.
Pandora did not respond to our request for further details.
The Fiscal Cliff, Right
The market promptly punished Pandora for its dismal outlook — shares dropped some 20 percent.However, it is unclear whether Wall Street agrees with Kennedy's assessment of the situation or sees other forces working against the company.
The fiscal cliff excuse is a cop-out, Mike Tarsala, chartered market technician at Covestor, told the E-Commerce Times.
"The company's real problem is that it has a lot of competition, and that's making it hard to monetize its user base.
Pandora is also hampered by increasing royalty fees as its user base grows.
"Pandora has to pay every time it streams a track, same as Spotify and others who hold music inventory," said MPme CEO Christian Miccio.
"People love the discovery and recommendation capabilities of Pandora, but are finding themselves stumped by the price," he told the E-Commerce Times. "The reason is that to them, radio has always been free to listen to, because it has been advertiser-, government- or, in the case of public radio, grant- or listener-supported.
"Unfortunately, since Pandora owns the musical library inventory and needs to pay per play, it's impossible for them to offer users an inexpensive way to enjoy the music," Miccio explained. "There is no simple business model to address that."
A Growing Industry
A more pressing problem is the growing competition in the industry and the indications that Apple may enter the space.
"The mobile [and] Internet streaming music market is getting full," Bruce White, a professor of computer information systems at Quinnipiac University, told the E-Commerce Times, with Pandora, Spotify and I Heart Radio the chief players.
While Pandora has shown a profit, it still is not growing as fast as investors would like. In fact, it is barely surviving, according to White.
The fiscal cliff could well be the last straw for Pandora — or at least an additional burden on a company that is already struggling, he maintained.
"If the impact of the fiscal cliff means more taxes — especially on businesses, which may mean less spending on advertising — then Pandora is caught between the proverbial rock and a hard place," White said. "With income barely exceeding expenses, with investors not happy with the stock, Pandora has to reconsider its role and purpose."
In short, Pandora has to find new revenue or cut expenses — or it could market itself to Apple, he suggested.
Not everyone sees Pandora's future as grim, of course. Pandora's current "lumpy revenue" and "poor visibility" are discouraging, but there are brighter days in store, according to a research note from Canaccord Genuity Internet technology analyst Michael Graham.
"We view this setback as mostly temporary," he wrote, "and believe the monetization of a rapidly growing user base will reward the (at times very) patient investor."