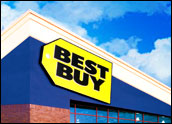 Richard Schulze, the founder and ousted chairman of Best Buy, is assembling a team of executives that could help him lead the electronics retail megachain if his attempts to buy back the company are successful, according to a report from Bloomberg.
The Best Buy founder and former CEO left his position as chairman in June following a scandal that centered on another former CEO, Brian Dunn. At the time of his departure, Schulze said he was exploring all available options for ownership in the company. He is currently the retailer's largest shareholder with about a 20 percent stake.
Now, Schulze is reportedly recruiting a team that could help him lead the business if his private buyout is successful. Among those he's said to have talked to are J.D. Wilson, the senior vice president of enterprise capabilities at Best Buy, whose position at the company might be eliminated because of cutbacks. Schulze also reportedly recruited Brad Anderson, another former CEO at the retailer.
A Best Buy spokesperson declined to comment on the story.
Still Needs Big Bucks
Even if Schulze is able to assemble a team of outcast Best Buy executives and other corporate leaders, he still needs additional financial backing to make a move on the company.
Following Schulze's statement that he would consider pursuing a takeover, the board upped the minimum threshold of ownership required for a shareholder to call a special meeting related to change of control from 10 to 25 percent. That put Best Buy's regulations in line with Minnesota statutes, but it also effectively prevented Schulze from being able to call a meeting on his own.
At the same time, the board also voted to award some of the company's remaining top executives retention bonuses.
Given the company's apparent attempts to shut out Schulze and Best Buy's current struggles in an increasingly online-driven marketplace, getting that financial backing might be difficult, said R.J. Hottovy, an analyst at Morningstar.
"By putting a group together, Schulze overcomes one hurdle," he told the E-Commerce Times. "But they've hit him with the rule about the 25 percent stake in the company. That is a bigger hurdle and one that makes a buyout a difficult proposition, because I doubt private equity companies are lining up to back this deal."
Private investors are usually much more hesitant in volatile retail spaces like Best Buy's, said Peter Keith, analyst at Piper Jaffray.
"Schulze would have to bring in not just one but several private equity partners to complete that size of a buyout," Keith told the E-Commerce Times. "With such a product-driven business cycle, it's difficult for any investor to have a view on what the business is going to look like five years from now, or what kind of cash flow there is going to be. That's not an ideal situation for any financial buyer."
Same Direction
It's unclear what Schulze might say to potential financial backers or a team of executive partners to convince them to jump on board. Whatever his pitch, said Hottovy, he needs to recognize the company's challenges. Best Buy's brick-and-mortar stores have been criticized for turning into showrooms where consumers can come and peruse electronics before buying them at discount or online retailers such as Amazon or Wal-Mart.
"He needs to acknowledge there is too much square footage at the stores and that they were designed for a different time in consumer electronics retail," said Hottovy. "He needs a plan to address that things are moving more digital at this point, that it has plans to become more of a price leader and procure some more exclusive products, and lastly to improve overall customer experience as much as possible and get those warranties and other products that drive margins in the business."
But those aren't new ideas for Best Buy leadership, said Keith. Former CEO Brian Dunn outlined most of those goals before he was ousted earlier this year. So it's unlikely that Schulze is pitching any new ideas that will convince financial backers or current Best Buy leadership to let him buy back the company's reigns, said Keith.
"In terms of changes, he would just look back to what Brian Dunn was executing," he said. "So it's not clear to me how he could make a big change to the company's strategic moves."