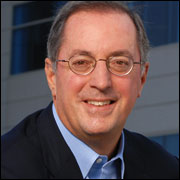 Intel CEO Paul Otellini will retire in May, stepping down at the end of an eight-year reign at the head of the chipmaking giant as the computing industry undergoes a major market transformation.
Intel did not announce his successor, but said Otellini will oversee the upcoming six-month leadership transition.
The company highlighted the bright spots in Otellini's tenure at Intel, including overseeing record revenue and net income and optimizing operations for long-term growth. His time as leader of the company has been marked especially by guiding Intel to the dominant position among PC chip-builders.
Since Otellini took over in 2005, however, the processing landscape has undergone a transformation. Desktop and laptop computer sales are taking a hit as mobile devices such as tablets and smartphones gain popularity in the consumer market. Otellini acknowledged that his departure was in part to transfer Intel's leadership to a "new generation."
Intel did not respond to our request for further details.
Taking Intel to New Places
Although Otellini's handling of the PC market has made Intel a huge success, the board at Intel realizes that its leader must also steer the company toward dominance in the mobile space if it wants to remain relevant in the new market, said Jim Turley, principal analyst at Silicon Insider.
"The general consensus is that this change is being pushed by the board of directors, who aren't happy with Intel's progress in the mobile market," Turley told the E-Commerce Times. "Intel has almost no chips inside mobile devices, and it's beginning to worry the people in charge. This isn't the 1980s anymore. PCs are not where it's at. Mobile gadgets are where it's at, but that just isn't Intel's strength."
That's not entirely for a lack of trying on Intel's part, Turley pointed out. The company, along with its chief rival AMD, realized — albeit a little late — that it had to develop chips that would help it break into the mobile market, but Intel's haven't been too successful.
"The chips themselves are halfway decent," he noted. "The problem is the software. Intel chips simply don't run the software that cell phone, tablet and game makers want. Practically every cell phone, tablet, etc., runs software written for ARM chips, not Intel chips, so Intel is going to have a tough time breaking into that market. It almost doesn't matter how good the chips are; if they don't run the right software, nobody will be interested."
Additionally, even if the product were more competitive, the mobile processing space is already relatively crowded. Samsung, one of the world's mobile manufacturing leaders is also one of the largest semiconductor makers. Another dominant force in the mobile space, Apple, designs many of its processors in-house and uses Samsung as a manufacturer.
New Blood?
Unlike at some of its peers in the tech industry, the CEO position at Intel hasn't seen much turnover. Otellini is just the fifth CEO in the company's 45-year existence, and there is no clear successor to take his spot — an unusual turn of events, said Turley.
"Normally the company has a well-established succession plan, and wouldn't just throw open the doors to job applicants as they seem to be doing here," Turley pointed out. "To announce that your CEO is leaving soon, before his contract is up, and that you don't have any idea who's replacing him is a bit worrisome."
There are qualified internal candidates, said Vijay Rakesh, analyst at Sterne Agee, but the overall transformation of the market might mean it's time for a fresh set of ideas in the top spot at Intel, he noted.
"Intel has a deep management bench with Sean Maloney, who heads up Intel China, the company's fastest growing market for PCs and new server markets," he told the E-Commerce Times. "But it might also be an opportunity to do a reboot with new blood from outside."