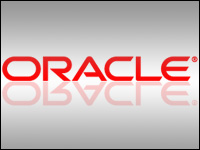 Oracle reported earnings for its first fiscal quarter in 2013 last week, telling a tale of two product lines: Its software operations fared respectably, while its hardware slumped dramatically.
Revenue posted for the quarter totaled US$8.18 billion, a 2 percent reduction from the same period last year. GAAP net income was up 11 percent to $2 billion, while non-GAAP net income was up 6 percent to $2.6 billion.
Revenue from its GAAP new software licenses and cloud software subscriptions was up 5 percent to $1.6 billion, while non-GAAP new software licenses and cloud software subscriptions revenue was up 6 percent to $1.6 billion. Revenue from both GAAP and non-GAAP software license updates and product support was up 3 percent to $4.1 billion.
However, Oracle's hardware performance for the quarter was a disappointment to its shareholders: Hardware systems product revenue was down 24 percent to $779 million.
Focus on the Cloud
Little wonder Oracle's top executives took pains to point out the company's progress with its cloud offerings.
Oracle's new cloud business is approaching a $1 billion annual run rate, according to President Mark Hurd.
CEO Larry Ellison promised that the company will announce "lots" of enhancements to the Oracle Cloud at Oracle OpenWorld next week, including more CRM, ERP and HCM applications as a service, and more Oracle database, Java and social network platform services.
Oracle declined to provide further details.
A Worrisome Trend
It is not surprising that Oracle's hardware sales are down, said Laura DiDio, principal of ITIC.
"These are tough times, and companies are still not investing heavily in capital equipment," she told the E-Commerce Times.
However, there's one particularly worrisome trend in Oracle's software sales that might not bode well for the company's performance in the long run, Didio noted. Namely, some of Oracle's earnings increase is due to its raising the rates on software licenses.
"That might create additional revenue in the short term," she said, "but in the long term, they are putting themselves in a precarious position because customers can become disaffected and move to the competition. High-tech companies are in fierce competition for business, and there are a lot of special promotions out there for customers to switch."
It is a lot more difficult for companies to switch database providers, Didio acknowledged, but discontent is brewing there, especially among the MySQL users who were acquired in the Sun Microsystems deal.
"Oracle hasn't provided a road map for upgrades, but it has changed pricing and terms and conditions," she pointed out. "For Oracle to succeed long-term, it will have to focus more on customer satisfaction."