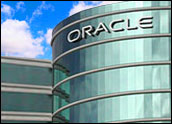 Oracle released its fiscal third-quarter earnings Tuesday, coming out ahead of Wall Street expectations in regard to profits and new license sales.
The database software maker saw revenue rise 2.2 percent from a year ago, going from US$8.81 billion to $9.04 billion. It posted adjusted earnings at 62 cents per share, up from 54 cents one year before.
The company was especially bolstered by new license sales, which are typically viewed as a good indicator of long-term strength. Oracle's new software license revenues rose 7 percent to $2.37 billion. Street expectations were closer to a 3-percent growth.
The higher-than-expected earnings showed a turnaround from the company's second quarter, when Oracle revealed numbers much lower than expected and watched its stock tumble. Its third-quarter earnings showed that last quarter was an "aberration," according to Copresident Safra Katz, speaking during a conference call following the report.
"The company, in short, focused on execution," Tim Jennings, chief analyst for enterprise IT at Ovum, told the E-Commerce Times. "Second-quarter results had been disappointing. So, led by President Mark Hurd, who has a strong track record in sales execution, Oracle made sure that delayed sales and pipeline came through in the third quarter."
Shares of Oracle rose slightly Tuesday in after-hours trading and continued on an upward trend going into Wednesday afternoon.
Keeping It Up
Oracle indicated it felt confident it could keep profits high going into the next quarter. The company projected profit would be between 76 and 81 cents per share. Keeping the new software licenses rolling in is important, as is making sure its current customers are happy with their Oracle systems, according to Rebecca Wettemann, vice president of research at Nucleus Research.
"In their existing revenue base, software license maintenance is still a big number," she told the E-Commerce Times. "They've got to keep companies happy, and keep them upgrading."
Oracle also highlighted its emphasis on cloud computing with its Fusion application going forward as a way to stay relevant and competitive. The company's Exalytics system, a direct competitor with HANA, will be a major player in the cloud market, according to Copresident Mark Hurd.
"Exalytics makes a lot of sense in cloud computing, especially up against SAP with HANA, and they're really pushing those sales forward," said Wettemann. "The important thing is that there are a lot of those cloud software vendors, so increased sales with the cloud players can also bring more database licenses."
Oracle has made moves with recent acquisitions to make sure it's a leader in the area.
"Cloud is the new battleground for the mega-vendors," said Jennings. "So Oracle needs to continue its cloud software strategy, with recent acquisitions of RightNow and Taleo, as well as development of Fusion Applications in the cloud, to establish a strong play in this dynamic area."
Holding Up Hardware
Oracle's hardware systems sales was a soft spot in the company's earnings, taking a 16 percent drop to $869 million.
The company projected higher hardware growth in the future, though, calling the business a "growth story" during the conference call. Oracle said its advantage in the market was being on both the hardware and software sides to make sure the products are designed to mesh.
"You can always find hardware sales cheaper than Oracle," said Wettemann. "What you can't find is hardware whose systems work together."
While straddling both the hardware and software markets can be a challenge for any company, Oracle doesn't have to focus on being a leader in both, said Jennings, as long as it can stay at the top of software licensing and cloud computing.
"Hardware is likely to continue to be a challenge over the next year or two, but I don't think it is a huge issue for Oracle as a whole," said Jennings. "Being a long-term cloud leader will occupy more of the attention."
Oracle didn't respond to our requests for further comment.