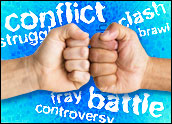 Oracle is clearly not prepared to let go of the TomorrowNow case involving corporate theft it suffered at the hands of the service provider, which was acquired by rival SAP in 2005.
In a legal filing this week, Oracle rejected the US$272 million in court-ordered damages from SAP. A jury found in favor of Oracle in 2010 and awarded the software maker $1.3 billion in damages. The judge slashed the award last fall, citing it as grossly excessive. Oracle has asked for a new trial.
Secret Raid on Oracle's Database
TomorrowNow was formed with the purpose of providing low-cost third-party support for PeopleSoft, Siebel and JD Edwards software — all of which are now owned by Oracle.
The legal drama began in 2007, when Oracle filed suit against TomorrowNow, by then under SAP ownership, claiming that its employees had posed as Oracle customers with active support agreements to log onto Oracle's customer support website in order to download software and technical support documents.
SAP shut the unit down a year later. In a pretrial brief, SAP acknowledged it was liable for some of Oracle's claims but disagreed that it owed damages in the billions of dollars.
Oracle declined our request to comment for this story.
Judgment Notwithstanding the Verdict
Oracle's pursuit of a new trial is likely not just because it feels strongly about the issue or even that it wishes to inflict as much financial harm as possible on SAP.
Whenever a trial jury's verdict is overturned by a judge in the way it occurred in the TomorrowNow case, the company almost always appeals, explained Peter S. Vogel, partner with Gardere Wynne Sewell.
That's "especially if there is a large sum of money involved, as there is with this case," he told the E-Commerce Times.
What the judge did is legally permissible — it is called a "Judgment Notwithstanding the Verdict" — but it doesn't happen very often, Vogel said. "A company is entitled to protest on the grounds that the judge made a mistake overruling the jury."
Still, there is likely some element of competitive, battle-to-the-death fervor behind Oracle's decision. The two enterprise vendors have been competing in the same market for decades. At one time, they were on par with each other, but Oracle gradually became dominant, in large part due to its string of acquisitions.
The $1.3 billion awarded Oracle was the largest ever for copyright infringement — an achievement that Oracle no doubt would like to keep.