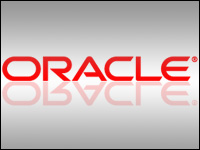 Oracle's stock slumped Friday in response to a disappointing fourth-quarter earnings report. Shares closed the day at US$30.14, down 9.26 percent.
Oracle reported its fiscal 2013 Q4 GAAP total revenue as unchanged at $10.9 billion; however, analysts had been expecting about $11.12 billion.
New software licenses and cloud software subscription revenue rose 1 percent to $4 billion. Software license updates and product support revenue was up 6 percent to $4.4 billion, and hardware systems products revenue came in at $849 million.
GAAP net income was up 10 percent to $3.8 billion, while non-GAAP net income was down 1 percent to $4.1 billion.
What's Wrong With Oracle?
Oracle gave a number of reasons for the company's performance. During a conference call with shareholders, CEO Larry Ellison pointed to the poor global economy, saying it was not a "product, competitive issue."
President and CFO Safra Catz noted that Oracle lost some Q4 business not to competitors, but because a prospective customer pulled back.
Oracle did not respond to our request to comment for this story.
The Competitive Edge
While these reasons — a poor economy, still-nervous buying organization — may have played a role in Oracle's disappointing quarter, there were others as well.
Competition across its product lines has increased, according to a report Global Equities Research released following Oracle's earnings call. For example, Amazon's RedShift has started to hurt Oracle's Exadata Sales, thus reducing hardware revenue estimates. Also, VoltDB has started to hurt Oracle's TimesTen sales.
Oracle will continue to dominate the existing IT market, the Global Equities report concludes, but it may struggle against VoltDB, Pivotal, Salesforce.com and Amazon.com.
And Then There's Marketing
Another factor contributing to Oracle's Q4 weakness is that it has not learned to properly market its growing cloud product line, suggested Nucleus Research Vice President Rebecca Wettemann.
"Obviously they have the technology, and it is an excellent platform," she told the E-Commerce Times, "but cloud technology — and even a cloud brand — is not enough to sell the cloud. A vendor needs a cloud sales strategy, which means selling based on references and being able to show customers how they will get incremental value over time with their subscriptions."
The cloud has been around for a while, but companies still need to be convinced of the value of a subscription service, Wettemann said. "That has to be part of the sales approach, even for companies like Oracle."