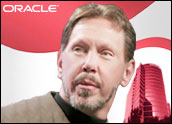 Oracle CEO Larry Ellison startled attendees at the company's Openworld conference — as well as the rest of the industry — with his announcement that Oracle and HP are joining forces to build computer hardware.
It is Oracle's first direct foray into hardware manufacturing. HP will actually make the line of data warehouse application computers; Oracle will market them under its own brand.
Specifically, the duo will develop the Exadata Storage Server and the Database Machine — a programmable storage server and an advanced database server. This is an endeavor that has been in the making for the last three years, according to Ellison.
New Territory
The purported goal of the servers is to speed the performance of Oracle software; the company claims that the storage server was designed to push data more quickly to the databases by pairing Intel multicore processors with memory.
According to tests that Oracle has run of its prototypes, the machines process information 10 times faster than systems currently in use.
The reaction to Oracle's surprise announcement has generally been favorable. The database industry is very mature, and Ellison has stretched Oracle's software capabilities about as far as they can go through many major and minor acquisitions over the past few years.
IBM's Shadow
Oracle was likely searching for a way to ratchet up the competition with IBM, Charles King, principal of Pund-IT, told TechNewsWorld.
"It is something of a disadvantage to go up against IBM, which has both the software and the hardware to play with to develop highly customized offerings for its own DB2 solutions," he said. "IBM is a partner with Oracle, but I think Oracle feels that there are market opportunities which it can leverage through other partnerships."
Ultimately, the new servers will appeal most to Oracle and HP's own installed base, King speculated. "I don't see them breaking a lot of new greenfield ground with this. It is too narrowly focused a product to attract anyone outside of the dedicated base."