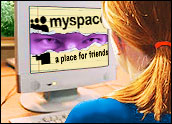 On July 27, by a vote of 410 to 15, the House of Representatives passed the Deleting Online Predators Act (DOPA), which will restrict access to social networking sites such as MySpace.com and other interactive services at schools and libraries that receive federal funding. The rationale behind the DOPA is to keep teenagers and children away from these Web sites, many of which have become stalking grounds for pedophiles.
To be sure, there are legitimate grounds for the act. A large body of anecdotal evidence suggests that sites such as MySpace.com have indeed become favored tools by adults who seek to prey on minors. This is due in large part to the fact that because there is so much personal information on user postings, it's easy for predators to contact and befriend their chosen victims.
The Federal Bureau of Investigation has estimated that one in five children who use the Internet have received sexual advances online.
Overly Broad
However, opponents say that DOPA will not solve this particular problem, especially as most children and teens have access to these sites at home. Worse, they say, the law is overly broad and will restrict access to many legitimate and useful Web sites.
"It is a bad piece of legislation," says Bernadette Murphy, a spokesperson for the American LibraryAssociation. She told the E-Commerce Times that DOPA's implementation would limit access to distant learning, blogs and even e-mail.
"Basically anything that allows a two-way conversation, such as posting to a blog or sending an e-mail, falls under DOPA," she said.
Specifically, the act would ban any site — it doesn't identify particular Web sites such as MySpace.com by name — that would permit users to create online profiles and enable communication between them.
Children's Internet Protection Act
Murphy adds that DOPA is also unnecessary because the Children's Internet Protection Act, passed by Congress in December 2000, already requires filters for "offensive content" on school and library computers that receive funding, or are interconnected via the federal "E-rate" program — a program that makes certain technology more affordable for certain schools and libraries.
She said she is not sure what additional steps libraries will have to take to adjust to DOPA. "Somelibraries opted not to receive federal funding so they wouldn't have to comply with CIPA," she noted.
Opponents to the bill have managed to delay its introduction to the Senate, which was originallyscheduled for this week. In the meantime, lobbying by supporters of social networking sites such asMySpace.com is intensifying.