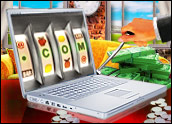 The Bush Administration pushed through new rules last week that seek to end Internet gambling.The new regulations, issued by the Treasury Department and the Federal Reserve system, require banks, credit card companies and wire transfer companies to establish a process to stop payments for settling online bets.
The rules are an outgrowth of a law passed a few years ago, the Unlawful Internet Gambling Act of 2006. However, they do not specifically define "unlawful Internet gambling." Instead, the regulations refer financial institutions to existing state and federal laws — laws that differ on a state-by-state basis.
Critics of the new regulations say they're unworkable, because of the burden they will put on financial institutions to identify where an online gambling transaction originates and interpret state gambling laws.
Internet Ban Hard to Enforce
"The idea behind the law is a good one," Mitch Stein, a partner at law firm Sullivan & Worcester, told the E-Commerce Times. "If you're going to get rid of Internet gambling, the most efficient way to do it is cut off the money. On the Internet, you usually have to pay by credit card or wire transfer. In that sense, the law is ingenious. But implementing that and enforcing it is going to create a lot of confusion."
The fundamental issue that financial institutions face is this: How do they define Internet gambling and enforce the new rule?
"People who set their minds on Internet gambling will do so probably in an indirect way, and it's going to be difficult for financial institutions to find those payments and block them," Stein said.
Not an Outright Ban
While it's been heavily reported that the federal government has outlawed Internet gambling, that isn't really the case, according to the Interactive Media and Gaming Association, or IMEGA.
"They have not outlawed Internet gambling," Joe Brennan Jr., chairman and CEO of IMEGA, told the E-Commerce Times. "An American, unless he lives in a state like Washington where it's a class C felony to gamble online, can still go online and not have to worry about prosecution for Internet gambling."
However, by outlawing banks, credit card companies and payment processors from processing transactions between gamers and online gambling sites, the federal government is attempting to suffocate the industry.
Given the burden that will be placed on financial institutions to define, identify and enforce gambling transactions, many banks may simply refuse to process any such transaction, Brennan said.
"The authors and supporters of the law are happy with this definition, because it puts the financial institutions in the position of wanting to throw up their hands and say this isn't worth it," he remarked.
IMEGA is currently challenging the 2006 law in the Third Circuit Court of Appeals in Philadelphia, where it has sued the U.S. Department of Justice, the Federal Reserve and the Federal Trade Commission.
IMEGA's suit argues that the 2006 law is so impossibly vague that it cannot be discerned by a common person and is therefore unconstitutional.
"It's based on the fact that Congress and the regulators have not defined what unlawful online gambling is," Brennan said. "The industry takes this very seriously, not just because of what this would mean for them as U.S.-facing businesses, but for what it means for their players."
Future of the Law Uncertain
The timing of the new regulations has been questioned by federal lawmakers such as Rep. Shelley Berkley, D-Nev., and Rep. Barney Frank, D-Mass.
Both have been vocal critics of the 2006 law, and Berkley in particular has said the Bush administration is trying to push new regulations through before President Bush leaves office in January.
"Some have speculated it's the Bush administration serving the interests of its more culturally conservative constituencies," Sullivan & Worcester's Stein said.
What will become of the law remains uncertain.
It's possible that it could eventually be overturned when President-elect Barack Obama takes office in January, Stein said.
"Mr. Obama could amend or undo the regulations," he said. "Certainly, Barney Frank has been pretty outspoken in his opposition to this stuff. It could also get extended. I'm sure there will be a big industry pushback, and we'll just have to see what happens."