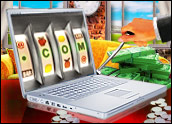 Lost in the furious run-up to the November elections was a Kentucky court ruling that could unravel a long-established legal argument supporting basic e-commerce activity: namely, that local or state governments cannot extend their reach into cyberspace to impose their own laws on a Web site.
Because that precept is considered so fundamental to e-commerce, it is likely that any challenge to it will eventually be dismissed or overturned. If not, the ramifications would be chilling for e-commerce — and would certainly not be limited to online gambling, which is the subject of the Kentucky case.
Even if the case does go away, though, it has raised what remains a vexing question: What is the legal status of online gambling in the United States?
Missing Tax Revenues
The Kentucky case began the same way many other e-commerce legal battles have erupted over the years — with a government irate over lost tax revenue and concerned that the Internet was undermining local businesses.
Kentucky Gov. Steve Beshear — a supporter of the state's gambling activities — filed suit in Franklin Circuit Court against 141 online gambling Web sites, claiming that because they could be accessed by Kentuckians, they were in violation of state law. He demanded that the sites block access to Kentucky residents. If they failed to do so, Beshear wanted the court to seize the sites' domain names and transfer them to the state's control.
In a ruling in mid-October, Franklin Circuit Judge Thomas Wingate agreed with most of the state's arguments. The judge then scheduled a hearing for Nov. 17 to determine whether the domain names should be forfeited, but recently pushed that date to Dec. 3. Wingate gave the Web sites 30 days to voluntarily block access by Kentucky residents.
In his 43-page ruling, Wingate found that the state had jurisdiction over the matter. He also appeared to understand the larger ramifications of his ruling. "We note that the opposing groups and lawyers argue any judicial interference of the Internet will create havoc. This doomsday argument does not ruffle the court. The Internet, with all its benefits and advantages to modern-day commerce and life, is still not above the law, whether on an international or municipal level."
The Interactive Media Entertainment and Gaming Association (IMEGA) — the chief, but by no means only, opponent to this measure — has filed a petition asking the Court of Appeals to vacate the order, citing lack of jurisdiction.
So there it stands.
Seizing Domain Names
There is a lot of firepower lining up against this case — and not just from the gambling industry, Mitch Stein, a partner in Sullivan & Worcester's online gaming law specialty practice, told the E-Commerce Times.
"The notion that a state court can seize a domain name to protect a local concern — trust me — will be challenged in a lot of business sectors," he said.
Even if the case were limited to the gambling industry — and there is little likelihood it would be — there are still many ways it could spill over into unintended areas, Stein said.
"What about fantasy sports sites?" he asked. "If any one state — such as Florida, for example — decides a site like CBSports.com is illegal because of the fantasy game element, it could seize the domain name and shut it down very quickly."
If the ruling stands and Kentucky is able to seize the domain names, the fear is that this line of reasoning could be applied to other sectors, said Internet Commerce Association President Jeremiah Johnston.
"A reversal would have a chilling effect on e-commerce," he told the E-Commerce Times.
"There is too much at stake if the courts accept this line of reasoning," Stein agreed. "I think we will see constitutional issues raised" — for example, whether such laws violate the right to free speech or whether states can interfere with interstate commerce in this manner.
Another challenge might focus on whether domain names are gambling devices, as Kentucky has claimed, he added.
Indeed, the challenge to free speech alone could be a winner at the highest level. "What has happened is that the commonwealth [of Kentucky] found content it didn't like online and decided to hijack the domain names in response," Edward Leyden, general counsel for IMEGA, told the E-Commerce Times. "It would set the precedent for any jurisdiction that finds content offensive for competitive reasons to shut down that site."
Waiting for New Rules
Ironically, Kentucky's concerns about its missing revenue may be alleviated in short order anyway.
In 2006, the U.S. all but banned online gambling with the passage of the "Unlawful Internet Gambling Enforcement Act." The act makes it illegal for any bank or financial entity to process an American's credit card or bank payment to a gambling site.
The rub is that the U.S. has not put forth rules on how this law is to be implemented, leaving enforcement as a gray area.
That will soon change. Last year, the Federal Reserve asked for comments on the best way for the law to be implemented.
"Right now, the industry is waiting for the final regulations," said Sullivan & Worcester's Stein.
There is no set date, he said, but the rules will more than likely be issued sometime next year.