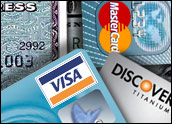 Today's liquidity crunch is a far-reaching conundrum causing the global credit markets to react in an irrational and volatile way. All granters of credit are under immense pressure, as the market continues to point its gnarled finger at the mortgage industry as the chief culprit for the market's disarray.
Unfortunately for credit card issuers, the credit crisis has found its way into their reserves, as delinquencies of card holders continues to rise. Such challenges, along with inefficient processes, exorbitant cost structures and overutilization of credit data, leaves the issuer with insurmountable challenges, and at the same time, an immense opportunity.
Off to the Races
Historically, every issuer has enjoyed success due the American public's thirst for immediacy and the need for credit to quench that thirst. Most credit card issuers have built an infrastructure to productionalize the acquisition of the consumer by attempting to get offers in the mail immediately following the credit score refresh from the credit bureau. To optimize all campaigns, credit card issuers merged the data from all three of the leading credit bureaus, looking to provide the best and most accurate credit coverage on each individual American consumer.
To accommodate all three bureaus, issuers built what was at the time a very time sensitive "off to the races" campaign process to run each campaign as fast as possible. Endeavors such as these required the largest issuers to:
Leverage large amounts of credit data for marketing activities while satisfying risk and underwriting requirements.
Develop efficient processes with high cost infrastructures to reduce the amount of time between a credit offer and a credit score refresh.
Create and leverage large decisioning sciences teams to predict response and manage risk all in an effort to deliver the most new credit card customers monthly.
While credit data is required for every issuer to make decisions, the exhaustive use of credit data has left the issuers that share the "common" process with massively underperforming campaigns. In many instances, response rates have declined to less than three-tenths of 1 percent with some coming in at one-tenth of 1 percent.
Outmoded Process
Add the large cost basis, processes that have grown inefficient if not entirely inflexible, common data utilization that does not accommodate today's data requirements and the current credit crunch; issuers are faced with the need for change. If for nothing else, revenue must be aligned with expense, for issuers cannot afford to continue to manage large infrastructures and rigid processes to acquire such a small number of customers and their associated revenue. As a result, efficiency gains are top of mind for many issuers.
Opportunities exist for issuers in a number of areas such as:
Augmenting credit data with more behavioral data. Issuers must get closer to the consumer, and tailor offers around consumer insight in addition to credit insight. Credit insight alone will no longer deliver success for the issuers. Current response rates support the need for change.
Processes improvements. Processes need to accommodate new data, increase flexibility around the utilization of the new data, and generate an overall nimble approach to credit card prospecting. Incorporating new sources of behavioral data along with credit data will give the issuer opportunities to manufacture new data elements that may be utilized for targeting. The ability to incorporate quickly such newly manufactured data is critical to targeting process for the issuer.
Cost reductions. Review everything, from hardware and software to support the environment to the number of FTEs (full-time equivalents) that is required to manage the database environment, to the number of bureaus leveraged for prospecting campaigns.
With market conditions what they are, and costs to acquire a new account reaching close to US$150, it is time for issuers to evaluate everything — their current processes, their technology platforms that support their targeting efforts and their consumer engagement data strategies. Now is the time for the issuer to identify what technology platforms are available to underpin new data, and new processes that foster consumer engagement.
In essence, the issuer must identify a less expensive way to manage its campaigns in a better and more flexible manner while continuing to seek speed improvements. Simply put, issuers need to run campaigns better, cheaper and faster. The credit crunch has without a doubt presented many challenges in the volatile credit markets; however, the question before the issuer now is: insurmountable challenge, or immense opportunity? Only time will tell which way the credit card issuing community will respond to it.
---
Mike Fisher
is senior vice president for North America commercial operations with
Alterian
, a provider of marketing software and services.
---