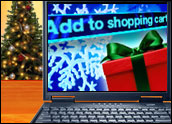 Ask just about any research company that tracks online spending about this holiday season and you will get bombarded with cheer: "good," "strong," "robust," and "surprisingly strong" are among the adjectives used to describe online shopping activity this month and last.
The latest indicator is a report on the holiday season-to-date: US$24.6 billion has been spent online, for a 15-percent increase over the same period last year, according to comScore.
For the most recent week, ending Dec. 9, online spending reached $5.9 billion, an increase of 15 percent over the corresponding week last year, with three days surpassing $1 billion.
So far this year, there have been six individual days that have surpassed the billion-dollar threshold, led by Cyber Monday at $1.25 billion, comScore found.
Indeed, Cyber Monday 2011 ranks as the heaviest online shopping day in history. The second-heaviest day was Monday, Dec. 5, 2011, followed by Tuesday, Nov. 29, 2011 at $1.12 billion and Tuesday, Dec. 6, 2011 at $1.11 billion.
Economy Still Lackluster
It is not that the economy is suddenly improving — although economic measures have been ticking up in recent weeks. The increase in online spending is likely attributable to other factors.
"I don't see this as a response to an improving economy, because I don't think the economy is improving," Gabe Donnini, lead analyst at Chitika, told the E-Commerce Times.
However, consumers are relaxing their vigilance, or at least their tendency to scrimp this holiday season, he said. This is seen both in online and brick-and-mortar spending this year.
Price, Convenience
Consumers are turning to the online channel in particular because of its low pricing and convenience, Donnini said.
Free shipping, which more retailers seem to be offering this year, is part of that mix.
Don't underestimate the power of free shipping, said Fred Lizza, CEO of Dydacomp.
"It was a trend in past years — but in 2011, retailers are making this a major benefit to online shopping," he told the E-Commerce Times. "We've seen statistics suggesting that over 50 percent of retailers are offering free shipping this year. Retailers have found room in their budgets to provide this to lure more consumers to shop with them."
And it's working, Lizza added, pointing to another comScore survey that showed that more than a third of 1,000 consumers polled stated that free shipping was a factor in their deciding whether or not to make an online purchase.
Another reason consumers are shopping is that "it is a lot easier to comparison shop online, and consumers are still very price conscious," Donnini said. "Once someone is going through the motions of checking prices online, they usually tend to follow through with a purchase once they have found the lowest price."
The Mobile Factor
This year has also seen a surge in consumers shopping with their mobile devices — either using them to compare prices while in stores or actually following through and buying an item via their device, noted Bill Ready, CEO of Braintree.
"There are a number of reasons why more people are buying via mobile this year," he told the E-Commerce Times. For starters, many more retailers have optimized their sites for mobile purchases this year, compared to last.
"Also, the consumer has become far more used to using a mobile device for almost every transaction — including a purchase now," Ready said. "A few years ago, that wasn't the case. "
Another benefit to mobile — and social — connectivity and outreach is that consumers have another channel through which to learn about products, Lizza pointed out.
The mobile, social trend translates to more online sales "because it offers consumers the flexibility to learn about a product, follow the brand, compare it against others — and then provides the convenience of ordering online or over a mobile device."