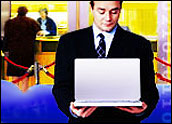 Fans of online banking can hardly imagine how they lived without the channel. Just as snail-mailed personal correspondence has gone out of fashion in favor of e-mail and text messaging, so have snail-mailed account statements and bills.
Consumers use online banking for its convenience and the control it lends them. They can push money from savings to checking or money market accounts in ways that formerly required the assistance of a human being in a branch bank during abbreviated business hours. Online banking strips away the face-to-face interaction, but that's not necessarily a loss. In some cases, the intimacy of the branch bank experience can be disconcerting. You may wait in a long line only to be treated as though you need the teller's permission to make decisions involving your funds.
Much of what appears in the media about online banking has a negative stain upon it, primarily due to concerns over adequate security. However, JupiterResearch studies have found that the consumers most worried about security in Web banking are those who don't actually do Web banking.
"In our 2006 Financial Services consumer survey, security ranked as the No. 2 reason that consumers reported for not using online banking. It came in behind 'I prefer to use offline banking resources such as branches, ATMs, etc.,'" says Ed Kountz, senior analyst in financial services at JupiterResearch. "The actual response was, 'I am concerned that my account information will be used for fraudulent activities,' but the sentiment's the same."
"However, the issue is not so much actual security," he tells the E-Commerce Times. "It is, in fact, perceptions of security. Even if actual security is virtually foolproof, perceptional issues must be managed."
Success From Customer Satisfaction
Perceptions of account vulnerability fade, though, when consumer expectations are met or exceeded by their banks online. "Setting customer expectations and meeting those expectations are the most important activities in this channel," says Paul Quigley, partner and regional vice president for Ohio-basedBrulant, a firm that develops multichannel strategies and marketing for banks. "Banks meet customer expectations when they offer consistent services and products over the Web and across other channels."
After purchasing Charter One Bank, for instance,Citizens Bank needed fresh account applications online. Retaining both the Charter One and premerger Citizens formats defeated the objective of a consistent user experience. New personal deposit, personal equity and business banking applications online were flexible enough to enable quick changes and give customers the personal cues they might have received sitting across the desk from a branch banker and filling out a paper app. Now, an online progress meter lets applicants know where they are in the application process and allows them to go back through their application, save it for later, or review and edit it as necessary.
Charlotte, N.C.-basedWachovia recently redesigned the secure section of its site — the area accessible only through login — so that the public and secure sections would offer a similar experience via the same colors, patterns, etc. The secure site is now organized by consumer tasks rather than by product groups. A recent JupiterResearch survey showed that Wachovia's customers showed a high level of satisfaction with the bank's online banking offering.
Site features like these give customers the feeling they are in the bank, even when they're on the Web, Quigley says.
"Retail banks also win points when they define key terms and provide online demonstrations to new users about the features and functions of their Web sites," he says. "Clear business descriptions will reduce misunderstandings about processing times, products and product attributes."
Convenience Plus
Because banks that work the Web the best make it another customer-facing layer, they typically recognize that all user actions and records need to be available across channels.
"Wells Fargo is now serving 60 percent of its checking accounts online. Interestingly, a key element in their migration strategy was the involvement of the branch and its employees," says Asaf Buchner, an analyst with JupiterResearch, New York. Wells placed kiosks in branches, where bankers can now demonstrate how customers sign up for and use online banking.
Wells also provides branch employees with incentives for signing customers up for online banking.
Beyond migration is premium service. Quigley says savvy banks achieve this with advanced customer segmentation.
"Some customers will come to a branch for their primary banking needs. Others use the ATM network and call center, and others, the Web," he says. "Knowledge about customer needs and expectations is also increasing. This requires active monitoring and outreach to the bank's customer base — existing and potential — to understand what portfolio of products and services strengthen their relationship with the bank and what new products they need."
"Banks that see the strategic value of the interactive channel leverage their security models to include customer access through the online channel, and have aligned and expanded call center capability to support the demand," Quigley concludes, stressing the multichannel reality. "These call centers also offer another opportunity to up-sell and cross-sell products to customers while you have them."