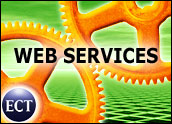 Historically, a Web service has been understood to be a software piece that enabled machines to interact over a network. That network may have been a closed-loop enterprise system or the Internet.
However, in recent years the term has taken on new meaning. It is frequently applied to online business intelligence or measurement tools, for example. That may be why the functional components merged to make enterprise-specific applications are now called service-oriented architecture (SOA).
A Web service that carries out payment validation takes information from one system — perhaps a customer name and address — and initiates a request for other information relevant to the process, such as a credit card account number, expiration date and CVV2, or card verification value on the backside of the plastic, Clive Longbottom, service director for business process analysis at the technology research firm Quocirca, told the E-Commerce Times.
It bundles the information into a secure package to be handed off to a payment processor. "Through this means, we have a single service that can be called by all other areas that need a payment validation service," including multiple retail channels, accounts receivable and even human resources, accepting COBRA payments from past employees, he noted.
"If the way that we deal with payment validation changes, we update a single service and all dependent services are then automatically updated," he added.
Reinventing the Concept?
The concept has been perverted a bit by vendors that sell online ad-tracking tools or search-term analysis, and that's a stretch, Bill Tancer, general manager of global research at Hitwise, told the E-Commerce Times.
However, clients anticipating an eventual mashup of Hitwise's competitive intelligence offering with third-party or even customized metrics think the term "Web services" fits.
"In the future, we'll look at our own internal data and compare it against the marketplace all in one interface," Matt Crenshaw, director of research for HowStuffWorks.com, told the E-Commerce Times.
Adoption of Web Services
"The main problems with Web services were that they were meant to be implemented as stateless services," said Quocirca's Longbottom, to be triggered by any system thanks to a database registry that would hold details of available services.
Most companies just replaced proprietary code connections with hard connections between services, "which missed the point somewhat," he said.
"Web services are not the answer to every technical problem existing in companies today, but just as with many new technologies Web services originally made a few promises that haven't quite made it to reality," Chris Wissing, vice president of technology atEpsilon, told the E-Commerce Times.
"Having said that, I think that adoption of Web services as a standard interface option has occurred at an extremely rapid rate. The only people that may be confused or have lost respect for Web services are the same ones that thought they were magic beans to the technology industry," he added.
SOA Saves Web Services
SOA is dependent on the use of Web services for scalability, flexibility and easy replication in the event a Web service gets corrupted or otherwise fails. It can be copied to a different hardware platform so that the composite applications continue to run, Longbottom said.
"SOA is now driving Web services, and as developers get used to the idea, we are seeing more and more Web services come to market," he added. "Even Oracle and SAP are creating Web services environments — just very tightly coupled ones that it's hard to get other [non-Oracle or SAP] applications and services to integrate with."
"Web services allow technology managers to extend the life of aging applications by implementing interface points so that newer technology can still communicate with and leverage legacy IT assets," Wissing said. "They allow organizations to knock down technology walls or islands that have hampered growth and efficiency."
This results in lower application development costs and gradual application replacement within an organization. This tech evolution has stalled more frequently because organizations lack a long-term IT strategy, rather than because "Web services" has come to communicate many and diverse solutions.
"If anything slows down adoption of a new technology, it's taking time to ensure that decision makers understand and are able to quantify the return on investment," Wissing said. "In the case of Web services, it can be difficult to quantify improved interoperability.
"The typical IT manager needs to be a technology evangelist for the organization and continuously work to demonstrate the value and benefit of newer technologies to the overall organization," he concluded. "The IT manager needs to be willing at times to put his or her reputation on the line, to take on a project with some risk and reward. Only then will the rest of the organization and decision-makers see the value."