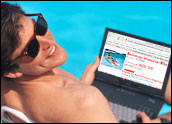 E-tail industry leaders are crowned — and laggards exposed — in a new Web site study conducted byKeynote Systems, a San Mateo, Calif.-based Web performance and measurement firm.
A large consumer panel ranked sites in three verticals — electronics, apparel, and books and music — according to customer experience and technical quality. Electronically analyzed site usability, combined with consumer behavior and attitudinal input, populated more than 250 metrics for each leading retail site studied.
More than 5,600 consumers interacted with popular e-commerce sites including Amazon.com, Best Buy, Dell, Office Depot, Overstock.com, Wal-Mart,Banana Republic,Eddie Bauer,Gap,L.L. Bean,Macy's,Neiman Marcus, Nordstrom,Borders andBarnes & Noble.
Not Ready for the Rush
Technical performance ratings, including overall site responsiveness and reliability, resulted from thousands of simulated interactions with each site. Circuit City andCDW topped the electronics set,Kohl's andJC Penney rated highest among the apparel sites, and Borders and Target won out in books and music. However, several second-tier sites hardly competed.
"We always see sites that are excellent. But several sites are not ready for holiday load," said Ben Rushlo, Keystone's senior manager of professional services. "Even in the summer, they can't handle the slower load. Come December, there are going to be some unhappy consumers and site stakeholders."
This summer's study saw an increase in sites poorly prepared for peak shopping seasons as well as upped outages. "Second-tier sites are really struggling with outages," Rushlo told the E-Commerce Times, with some experiencing as many as 15 hours of downtime a month.
Bottom sites experienced an average of 15 outages in 2006 compared to eight in 2005. The top sites, however, averaged zero outage hours in both 2005 and 2006.
Top Customer Experience Rankings
Consumer panel members visited the 28 surveyed sites from home, school or work, following tasks outlined by Keynote.
"They use the search engine, interact with customer support and go through the checkout process right through to the final step," said Lance Jones, Keynote's manager of Internet research.
Out of more than 1 million data points, Amazon.com emerged as No. 1 in customer experience in electronics, as well as in books and music. Consumers expressed superior satisfaction with the site, responding to its visual appeal, clear design and organization. Amazon.com also emerged as the winner in converting browsers to buyers.
L.L. Bean claimed the coveted top spot in the apparel sector. Consumers found the company's product offerings and price points met their expectations, as did the overall search and purchase processes. L.L. Bean also took first place at converting browsers to buyers in this category.
Be Good for Goodness Sake
The Keynote report is designed not only to show paying subscribers their downfalls, but also to expose e-tail trends. There is a road to change for failing sites, Jones noted. Comparing lessons learned from electronics and books and music sites to those learned from apparel sites is one way to improve consumer travel across the Information Superhighway.
"Most apparel sites have catalog histories, so they outshine electronics and books/music/movies sites," he said.
The latter should look to the former's on-site search capabilities, item descriptions and product category organization, he recommended, and all e-tail sites should buy into the best practices of top performers.
For example, "top sites display shipping and taxes at the first sales screen," Jones told the E-Commerce Times. "Sites at the bottom of our study ask you to put your credit card in before full disclosure of the costs."
Consumers already are comparing cybersales benchmarks, he said. "People are comparing across sites and verticals regarding the basics."
Making a List
Given that some celebrated Web sellers offer guest checkouts rather than requiring all buyers to register with their sites, consumers are expressing frustration at the sites in all verticals that insist on getting a shopper's full profile before allowing a transaction.
"A lot of people are gravitating to that 'less is more' concept," Jones said. In addition to a guest shopper option, he suggested that e-tail sites move themselves from the naughty to nice holiday lists by inserting prices in on-site search results and offering a visually appealing price comparison tool that shows consumers the prices of all available products in a particular shopping category.
Additionally, "technical performance benchmarks are very applicable across verticals," said Rushlo.
Very low error rates and outages are not just desired for Web retailers, nor is load handling. Every industry and Web-enabled company can stand to learn from these online retail results, he pointed out.
Automotive manufacturers, travel companies, banks and more can benefit from the strengths shown by online retailers. "Retail has really optimized search and pushed the envelope in terms of how fast search is," Rushlo offered.
People want to have a Google-like search experience everywhere — as well as obvious customer help buttons and clear pricing information. E-tailers better watch out, Keynote's research suggests. Online shoppers know when e-tailers are sleeping, and they know when they're awake.