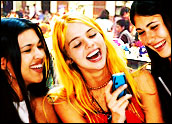 Global Positioning System technology exists in nearly all mobile phones, but is obscured from use on most except in emergency situations. Recently, however, the Walt Disney Internet Group announced that its new family-oriented Disney Mobile service will enable parents to tap into GPS location services to determine their children's whereabouts.
Disney Mobile, to become available in June, targets families with children ages 8 to 15. Its features put control in the hands of parents. Mom and Dad may curtail Junior's text messaging activity, for instance, to prevent surprisingly expensive bills at month's end. Parents also may restrict the hours their children use their Disney Mobile phones, the numbers they call and their monthly budget for cellular service.
Parents can locate their children — or at least their children's phones — on their own Disney Mobile phones, or online at a password-protected Disney site. Logging into the feature online yields not only an address and accuracy rating on the address — the basic information relayed through any inquiry — but also a map. Accuracy of GPS readings are enhanced, because that technology is combined with the more commonly used cell tower triangulation method of reading a location.
Deeper Penetration of Preteen Demographic
"We spend a lot of time talking to parents and families in general. There certainly looked like there was an opportunity in the mobile market," Lisa Rountree, director of marketing and strategy for Disney Mobile, told the E-Commerce Times.
"Amongst teens, 60 percent are on their parents' mobile plans — and even if they're not, their parents tend to pay for their mobile use," claimed JupiterResearch Senior Analyst in Wireless Julie Ask. Teens who pay for their own cell phones typically are at the older end of the demographic and come from lower-income households. That said, mobile service providers need to satisfy Mom and Dad before delighting youngsters.
Like it does with its primetime cable channel programming, the entertainment giant is focusing on the tween market — ages 10 to 14 — as its sweet spot for mobile phone services. "A phone is the most requested and most denied gift kids today ask for," Rountree explained. "It's a badge they desperately want; it's the way they keep in touch with friends."
Their parents desire a tool that lends safety, security and peace of mind. "A cell phone is a natural choice," Rountree says. Unfortunately, every parent Disney interviewed had a horror story that likened giving a child a cell phone to giving them a credit card and sending them to the mall. In either scenario, adults dread receiving the account statement at the end of the month.
With Disney Mobile's Family Monitor feature for budgeting, parents likely will be more comfortable trusting offspring with a mobile phone. In addition, they can choose to use or not use GPS to track their children.
Parents have long had the ability to call their kids to inquire about their location. However, Disney Mobile goes one step further by letting working moms and dads who leave home before their children board a bus for school find out whether they arrived there — even if their phones are stashed in lockers. It can also help harried parents find the soccer field where their youngsters are practicing lest they show up across town only to find an empty green.
Mapping GPS Use Into the Future
Still, JupiterResearch's Ask cautioned that GPS technology is active only when a phone is turned on and remembered by its child owner. There's no substitute for mutual trust between a parent and child, and a privacy-wary teen can disable the GPS feature on a mobile phone or conveniently leave the device at school while skipping a couple of classes mid-day. For parents who have experienced a breakdown in healthy communications at home, Disney Mobile's Family Locator won't work miracles. Still, "for a lot of parents, it's enough to know 'I can call my kids and they'll answer the phone,'" she said.
While Disney Mobile is the first cellular phone service to turn GPS technology into a consumer-controlled tool and tout the capability in its marketing efforts, other mobile communications companies aren't far behind. "We are looking into this kind of service," David Clevenger, executive director of public affairs for Verizon Wireless, told the E-Commerce Times. "It could serve as a good tool for parents."
The future of GPS technology in locating children is anybody's guess, Rountree said, but the same type of platform could be used for a variety of things. Families may use GPS technology on mobile phones to find the closest pharmacy or emergency room while traveling.
"It's never going to be foolproof," said Ask. "It's more a peace-of-mind issue."