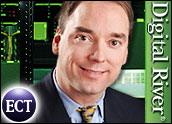 With the holidays approaching, many traditional and e-only marketers hope that the Web tools and designs they developed during 2006 ring in record sales over the Internet. To summarize what improvements online sellers made over the past 12 months, the E-Commerce Times talked to Jim Wehmann, vice president of global marketing for Minneapolis-based Digital River.
Digital River helps companies of all sizes, in both the business-to-consumer and business-to-business markets, create marketing strategies that drive Web traffic and increase average e-commerce order values and sales-close rates. It has worked with CompUSA, Symantec and Adobe serving both markets.
E-Commerce Times: Because the Web is a truly interactive medium, customer experience has demanded attention since the first sales occurred online. What did e-commerce companies learn in 2006 about serving customers better through their sites?
Jim Wehmann:
From an overall consumer experience perspective, customers continue to look for relevance. What is right for them differs by segment. Some consumers do a lot of due diligence before making a purchase, and others just want a promotion and to be done with it. In 2006, e-commerce sites learned to serve customers in the ways they like to shop and buy.
ECT: Is it possible to sell well to both of these groups, or must serious e-retailers focus on either consumers who need a lot of information and time before making a purchase, or those who are ready to buy in a click or two?
Wehmann:
A well-organized, highly optimized site certainly can serve both [contemplative and decisive shoppers]. One way to do both is to use customer self-selection technology. In the software industry, a free trial is a pretty popular tactic. Once someone raises their hand and clicks on a free-trial link, navigation unfolds to give them more information and [registration for] a free download.
What they see depends on what link they click on. For decided buyers, a site may have an express checkout box to click. Eighty percent of people buy one thing, so it's really easy to express-buy. But those who want to learn more about the product can click on other links.
Many marketers think of their store homepages and site landing pages, but don't think as much about the buying process itself. One of the things we see is limiting shoppers' navigation as they go through the buying process. Marketers will show customers all of their great offers, and all the other things they may buy start to drop to help consumers stay on the right path and complete the transactions they've started.
It used to be standard for the checkout process to show the shopper a buy confirmation page and an order summary page. Now we eliminate one step. It's unnecessary to have both.
ECT: Was self-selection technology developed in response to consumer demand, or did it pre-empt customer expectations?
Wehmann:
Most consumers have been waiting for this way to navigate a site, and in 2006, more sophisticated marketers began using something like self-selection tools. This year more marketers changed their online behavior than consumers did. That was a function of better tools, more domain knowledge on the part of marketers and increased competition in online commerce.
ECT: So have marketers discovered the Holy Grail of site design? What other improvements did they make in this area in 2006?
Wehmann:
Retailers and marketers are testing multiple variables on a given page. It's more complicated than traditional A/B testing. They may vary the message, promotion, pricing, hero product featured, voice of the communication, even the color of the "Buy" button and size of page headers. It comes out now that anything that one can imagine can be tested.
ECT: How has learning about search engine optimization advanced this year?
Wehmann:
In paid and organic search, there is lots of optimization happening to drive conversion. Search engine optimization is growing but is more mature. Our clients were getting 20 percent lift [from optimization tactics] two or three years ago. Now it's 4 to 5 percent lift. The gains are smaller because the base [of Web sellers] is larger than it was two or three years ago.
Search also is becoming more mature with contextual advertising. There is good activity out of the organic space for international and local-level expansion.
ECT: Speaking of reaching international customers, are e-commerce companies actively pursuing international sales? Or are cross-border transactions too challenging to U.S.-based sites?
Wehmann:
It's a land rush. There are cultural, tax and fulfillment issues to consider, so there continues to be a strong bias in partnering. Going it alone in some sense is a waste of time. Marketers go to see experts for help. Digital River has made a strong push in the past year for global-minded technology. [Companies can employ] a smart sourcing engine that selects items and fulfills orders on the basis of the lowest price or shipping cost and inventory availability.
ECT: Aren't some of these smart sourcing practices already common among brick-and-mortar retailers? How are these marketers faring online? Is the playing field level now, or closer to it, for pure plays and multi-channel brands?
Wehmann:
Retail multi-channel is catching up to and growing faster than pure plays. Stores like Target and Wal-Mart are moving aggressively and doing quite well online.
There is a lot of opportunity to optimize the consumer market and nudge segments into the most cost-effective channels. The Web also allows [traditional offline sellers] to expand their product lines. Retailers are going into pretty interesting categories that they wouldn't go into [in other channels].
For example, Chadwick's of Boston has four to eight pages in its catalog devoted to bridesmaid's dresses. They devote more space to the bridal category and expand the assortment online, whereas it would take up too much real estate in a store or print catalog. Target.com also has a much deeper product selection online, both in existing and new categories.