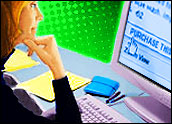 Online retailers more concerned about getting savvy shoppers to return to their sites versus winning new Web surfers are employing new technologies that enhance — and differentiate — their sites.
"2006 marked an important inflection point where the primary driver of online sales growth shifted from new customer acquisition to driving repeat business and maximizing wallet share," says Errol Denger, senior strategist for WebSphere commerce at IBM.
"Because each customer has a different buying style, unique selection criteria, personal motivations, and shopping approach, retailers must deliver a more dynamic experience to accommodate customer preferences better," he notes.
Rich Internet application (RIA) technologies, such as Ajax interfaces, are helping online retailers — and IBM as a tech vendor — do this, he tells the E-Commerce Times.
Web Page Display Supported by Search
Customers select the attributes most important to them through both IBM's solution and that of Kaon Interactive. "Human beings can only process a certain amount of information before it becomes too confusing," says Gavin Finn, CEO at Kaon.
Nearly 50 percent of consumers presented with too much information refuse to make a choice, he claims, instead foregoing the purchase.
E-tail technology enables shoppers to decide what product details matter most to their decision-making.
"Selection criteria can include parameters such as price, size, usage, materials or other attributes to visually sort and narrow the product set until the desired results are displayed," Denger says.
"On the back end is search," says Suketu Ghandi, managing partner of consumer goods and retail at Brulant. Categories and products related to the consumer-chosen attributes are matched.
"RIAs further enhance configuration and final selection by showing how different products fit together in specific configurations," Denger says. A consumer shopping for bedding may match duvet covers, pillow shams, and sheets almost as they would in a physical store environment.
Second Phase of Online Retailing
Selling to Web shoppers is no longer as simple as posting catalog items and enabling a checkout cart.
"Graphical merchandising techniques may be used to show products in different uses, dynamically change their colors, and pair products and color configurations together," Denger says.
For customized home furnishings, the latest Web technology can send consumer interest in products skyrocketing.
Thomasville uses Scene7's rich media platform to help consumers visualize their interior design improvements with photo-perfect quality. Not only can they see their new couches, well, from their couches, but they can use the same technology in-store.
Rich media increases consumer purchase confidence and shortens the selling cycle, says Sheila Dalhgren, Scene7's senior vice president of marketing and communications.
Thomasville can hardly complain. It experienced an 1,100 percent increase in usage of its online draping application since Scene7's platform introduced easy-to-print photo-quality renderings on its Web site.
"Thomasville sought to replace their out-of-date in-store solution that was only used by clerks to offer a Scene7 draping application that anyone could use," Dahlgren says. "Web-based applications have become dramatically easier to use. … What used to be a complex in-store application that required rigorous training is a simplified touch-screen interface for anyone, from the average shopper to the in-store sales personnel."
The Forecast
The key with emerging retail technologies, Denger says, "is that each step enables retailers to provide a more engaging product and brand interaction which, in some cases, increases online conversions."
"Most people spend 30 seconds, on average, on a product page," says Kaon's Finn. "That time goes up when the product's shown in 3-D. And sales rates are typically 18 to 20 percent higher just by providing an interactive experience."
Unassisted sales rates — those that don't require sales associate interaction online — increase 30 percent to 50 percent.
Thus, the ability to virtually touch and experience products enables customers to make better purchasing decisions and retailers to increase their revenues.
"As with any new technology, we are pushing the boundaries with rich Internet applications and the next generation of user experience," Denger says. "The first challenge will be in educating customers to the new shopping experience and how to use capabilities best."
"Customers are demanding they get the best experience at every touch point," Finn concludes. "Product comparisons and in-depth product specs are not enough, so we invented a technology that solves consumer problems. … We are trying to satisfy consumer demand rather than be ahead of consumers, delivering capabilities that they haven't asked for yet."