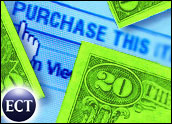 It's a time for excitement — you're ready for the next generation of e-commerce. Online selling is driving an increasingly significant share of your business' revenue, and the time has come for you to take it to the next level.
Evaluate what it takes to be a serious online merchant.
The trouble is there are enough choices out there to scare any company from knowing what to do to bring online business goals to life. If you're not careful, you can spend a lot of time and resources cobbling together point products and end up with a rather frightening Web presence.
An Honest Evaluation
Like you, many retailers and online sellers are recognizing the need to honestly evaluate whether their e-commerce platform can continue to support growth and evolving business needs. Simply offering products online and expecting new customers to find them isn't enough to remain competitive in the online world.
Customer loyalty and a pleasurable shopping experience are essential for growing the wallet share of existing and potential online buyers.
With competitors just a click away, you have hopefully begun to recognize a variety of new factors driving advances in e-commerce, including making it easy for shoppers to easily find you; targeting (and, thus, personalizing) offers and campaigns to customer segments and individuals; and creating more dynamic, intelligent sites that quickly respond to changing customer expectations.
However, if you're weighing the cost of new investments against their revenue-generating potential, you need to make sure you're getting the most bang for your buck — in essence, that you're breathing new life into your store with the full range of capabilities that the best e-commerce platforms can offer.
From Good to Great
Truth be told, e-commerce Web site functionality seems pretty straightforward, and almost commoditized.
For example, most of the good e-commerce Web sites have product catalogs and offer ways to search for and navigate to desired items; they have shopping carts; they frequently offer special promotions such as free shipping; and, hopefully, they all offer secure transactions.
Going from being a good online merchant to a great one, though, necessitates change. The common features reveal only the top layer of how important the technology behind a successful Web store really is.
Whether moving from a homegrown model or to an outsourced platform that has reached it limit, e-commerce managers, merchandisers and IT personnel alike can confront some major obstacles in advancing to the next class of e-commerce functionality.
The following is an "at-a-glance" guide of critical considerations for moving to a more robust e-commerce platform and evaluating whether you are ready to do so.
Customers Must Come First
When evaluating vendors and their platforms, take a look at the overriding goals behind the features and functionality trumpeted. Clearly, you want to hear that using X vendor's software will boost your sales — but how will they do so?
The strongest platforms will deliver a seamless, personalized experience to end-users and enable merchandisers to maintain control over their Web site and brand.
Now, savvy online customers expect sophisticated experiences on the Web, but true personalization isn't about emblazoning the consumer's name at the top of every Web page. It instead highlights and leverages the answer to two crucial questions and blends them together in a way that makes sense: What is your customer looking for and what do you want to sell them?
The answer lies in helping shoppers find what they're looking for quickly and easily while pushing specific products or offers that are relevant to them. That way, you earn their loyalty and give them a reason to keep coming back for more.
The Best of the Best
Simply put, there is a reason that some vendors are continually cited by analysts, existing retailers and partners as the best the industry has to offer. Take these points into consideration and examine which e-commerce applications are best suited to address your business needs.
A commerce Web site is only as good as its ability to handle its peak traffic. As your Web site popularity increases, it needs to scale with minimal effort — so don't settle for a platform that can't handle big or complex product catalogs in peak traffic time.
Make sure the platform will deliver the agility needed to quickly adjust offers and promotions for everything from A/B testing, consumer feedback or even relevant (and unexpected) current events.
With all this in mind, consider the advantages of implementing a suite with features and capabilities that complement each other and offer more control over the entire e-commerce life cycle. You don't want to spend the time, energy and money investing into a "Frankenstein's monster" of compiled applications to save a nickel or dime. It'll cost you in the long run.
Moving to a new platform shouldn't involve cobbling together a plethora of pieces from different vendors — and it shouldn't have to be done every other year.
Start off by looking at application components that make up an e-commerce ecosystem. This includes everything from a core commerce engine and catalog/natural language search capabilities to content management software; management of outbound e-mail campaigns; split testing, site analytics and even service and support measures for helping customers complete sales.
An integrated suite makes the most economic — and functional — sense.
The Right Fit
Finally, make sure that the vendor doesn't subscribe to a "one-size-fits-all" philosophy. Take a serious look at whether or not the platform in question can back up their claims.
Does the delivery model fit with what you're looking for? If time-to-market is a major concern, maybe an on-demand or SaaS (Software-as-a-Service) platform can help eliminate some of the typical IT hassles incorrectly associated with having a world class e-commerce presence.
If you want complete control to integrate and implement your software fully in-house, then a licensed or on-premise platform may be the right solution. The e-commerce platform you choose should do the work for you, so that you can focus your energies on selling the right products, running the right promotions and maintaining your brand while retaining and growing your customer base.
The world of online commerce is a rapidly evolving. Regardless of what it is that you're selling, in order to remain competitive, you must have the right technology and superior merchandising and marketing business tools in place.
There is plenty of room in cyberspace for great online merchants to have their lion's share of customer satisfaction and overall success.
However, it must begin from the ground up. Establish yourself with a robust and feature-rich e-commerce platform and you'll be less likely to scare off customers with a monster of a Web store.
---
Bill Zujewski
is vice president of product marketing for e-commerce solutions vendor
Art Technology Group
(ATG).
---