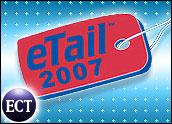 As massive snowstorms battered much of the Midwest and Northeast this week, it was 70 degrees and sunny in Palm Desert, Calif., during eTail 2007 Palm Desert, the 16th annual multichannel retail conference. The event ran Feb. 13-16 at the Desert Springs JW Marriott Resort & Spa.
Nevertheless, weather was merely an added bonus for the hundreds of attendees — top executives representing most of the country's largest retailers and consumer product manufacturers — who were fascinated with the event's vast array of educational and networking opportunities, all geared toward improving their customers'online shopping experiences.
Attendees represented a wide range of retailers, from online-only merchants eBay and Amazon.com to Wal-Mart, the boutique shop Williams-Sonoma and computer giant Hewlett-Packard.
Hear and Compare
"It's a great time to get together with your peers. For 364 days of the year, you're in competition with them," Kurt Larsen, general manager of home essentials and accessories for BestBuy.com, told the E-Commerce Times.
For example, Larsen and his colleague Dan Halsey, site manager for BestBuy.com, said they gained valuable insight during a session on using metrics to drive business goals, which was led by Matt Carr, director of Web site design and analytics for Circuit City.
"We're all sharing similar obstacles," Larsen added.
Catering to the Customer
eTail 2007's theme, "Putting Your Brand in Your Customer's Hands," involved one of e-tailers' most talked about ambitions these days: better customer personalization, which involves observing online customer behavior, including buying history.
"Our theme for 2007 is around personalization," Cliff Conneighton, senior vice president of e-commerce platform provider Art Technology Group (ATG), an eTail exhibitor, told the E-Commerce Times.
The secret to improved online sales is getting "the right offer to the right person at the right time through the right channel," he noted.
However, the personalization shouldn't be too obvious, he said. "If it's good, people will never know that it's there."
Looking ahead, ATG plans to introduce improved "searchandizing" and affinity selling products in the first half of the year, Conneighton told the E-Commerce Times.
Multichannel Marketing and Social Networking
Multichannel integration and international growth are other e-tailer goals that echoed throughout the ballrooms and hallways during the event. Attendees also frequently discussed plans to introduce social networking and feature "endless aisles" in their online stores.
Another event exhibitor, IBM, showcased a new product that involves multichannel integration, as well as social networking and personalization — its new Web 2.0 Store Solution (within its WebSphere Commerce platform), which the company says will enable e-tailers to deliver a more natural online shopping experience that mirrors in-store interactions.
The software allows online shoppers to drag and drop an item's image into their cart; chat with friends about products via instant messaging; participate in a 3-D virtual world; save product comparisons, and more.
IBM hopes the new software will lead online customers to think, "You're making me feel like this is my Web site," Rob Paschal, a WebSphere Commerce IT specialist for IBM, told the E-Commerce Times.
The Web 2.0 Store Solution also involves the company's new partnership with Bazaarvoice, which helps brands use online word-of-mouth — interactive conversations with customers via rankings and reviews — to build their businesses.
Google: A Newbie?
The ballroom exhibit floor — dubbed the "Solution Zone" — featured approximately 80 total exhibitors, up from the 62 exhibitors that participated last year. The event attracted about 1,250 total participants, including attendees and exhibitors, an increase from 1,100 in 2006.
The event's organizer, Worldwide Business Research, attracted multiple new eTail exhibitors that garnered much attention at the show in their own unique ways.
Google Checkout was new to the scene this year, following its June 2006 launch. Its booth personnel were often spotted in the hallways pushing blue shopping carts with Google Checkout wallets.
During the event, the company introduced an updated badge to feature Google Checkout items — an upgrade from its former blue shopping cart.
eTail was an ideal time to "raise awareness" for Google Checkout, Gavin Chan, its product marketing manager, told the E-Commerce Times.
Google Checkout allows online shoppers to use one login to shop at thousands of merchants across the Web, track all orders and shipping information in one place, and keep credit card numbers and e-mail addresses confidential.
Google Checkout is "focused on delivering merchants more traffic" while offering a "faster, more convenient and safer way to shop online," Chan noted.
Measuring Site Speeds
The external Web site monitoring and Web application management firmGomez was also new to eTail. In its booth, the company featured Web site performance evaluations for various retailers, displaying an end-user perspective on where sites stack up compared to the competition.
Gomez helps companies answer Web site questions like: "When it was slow, why was it slow?" Matt Poepsel, vice president of professional services for Gomez, told the E-Commerce Times.
"We're the grade card. We keep the IT group from chasing their tail," he stated.
During one session, Poepsel and Office Depot Senior Manager of Global E-commerce John Napper discussed the office supply firm's substantial Web site upgrade in December, which was executed with Gomez's guidance.
"We pore over this information," Napper said, referring to Gomez's research. "We look at areas where we can improve."
Stored Measurements
Lastly, one of the most eye-catching new exhibitors was Intellifit, which — for the first time at an industry event — featured a capsule-like machine that assesses and stores consumers' body measurements to guarantee the fit of clothes bought online.
eTail was an ideal event for the new machine, with Polo Ralph Lauren and Dockers, among others, as clients.
For retail companies, "it really is all about the Internet," Albert Charpentier, CTO of Intellifit, told the E-Commerce Times."[At eTail], these are folks that understand the Internet — they know where it's going," he added.