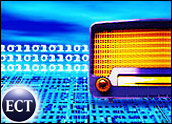 Right now, music fans around the world can choose from some 10,000 Internet radio stations, each one streaming a unique mix of music to Web-based listeners. Some of those stations are operated by industry titans such as AOL Radio and RealNetworks; others are the Internet arms of traditional terrestrial radio; and many more are tiny operations feeding their often small audiences a steady stream of hand-picked music.
However, those streams may soon dry up. At least that's the concern being raised by some in the Internet music world after the Copyright Royalty Board (CRB), a bank of three judges established by Congress to oversee radio royalty rates, issued a decision that dramatically hikes the royalties Web radio stations must pay.
"These rates may effectively be high enough to kill the webcasting industry," ABI Research digital home research director Michael Wolf told the E-Commerce Times. The fees would roughly amount to at least US$5 per month for most webcasting stations, Wolf said.
Profits Would Dwindle
With current subscription rates topping out at $10, those services would be hard-pressed to become profitable. "As for ad-only webcast models, there is absolutely no way Web radio stations could get that much out of its advertisers on a per-listener basis," he added.
The CRB's ruling in March sides in large part with the requests of SoundExchange, an entity formed by the Recording Industry Association of America (RIAA) to negotiate and collect royalties for labels for online music, which were first collected in 1992.
Indeed, SoundExchange has hailed the ruling — which came after an 18-month hearing process. "Artists have earned the right to be fairly compensated for the performance of their work by webcasters who benefit — financially or otherwise — from their talents," said John Simson, the agency's executive director. "Without these royalty payments, these artists would in many cases be unable to continue contributing to the music world."
Do Over?
Since the CRB issued its decision, many voices have lined up against it. A coalition of broadcasters that includes National Public Radio stations and others have pressed the board to take more testimony before finalizing its decision, while others are pushing grassroots effort sprouting online to pressure lawmakers to step in again.
Both sides agree the debate has massive ramifications for music consumers, webcasters and musicians alike.
One particularly sore spot for some webcasters is a retroactive provision in the CRB decision, one that could have some small stations turning over all of their 2006 revenue to the record labels.
Even a highly successful Web radio station — one that managed to attract advertisers at high rates — could end up owing 100 percent to 125 percent of its sales, Kurt Hanson, publisher of the Radio and Internet Newsletter, told the E-Commerce Times.
For its part, SoundExchange also said it does not want to put Web radio out of business, calling Internet radio broadcasters "our partners" and saying the group wants to see a "thriving online radio marketplace."
Webcasters note that the royalties are in addition to any copyright fees they already pay directly to artists or composer groups. They also argue that the economics of the situation will simply make webcasting impossible for many, particularly the smaller sites.
A New Breed?
One key distinction in the royalty uproar is that the new fees only apply to "noninteractive" music sites. In other words, sites that enable users to choose the music they want to hear by creating and sharing playlists, are generally exempt.
The Digital Media Association has called for a system that approximate the number of songs webcasters must pay royalties. The so-called "tuning hour" approach was used under the first royalty agreement, but was set aside at the request of SoundExchange in favor of assigning per-performance royalties — which a performance counting as each time a song is heard by an individual listener.
The tuning hour approach would also reduce the burden of tracking song plays and listener counts the new system seems to impose.
While smaller webcasters could be burdened by the minimum $500 per year payment, even large sites would be hard-pressed to make ends meet, according to Hanson. Using published visitor data for AOL Radio and typical listening patterns, Hanson estimated that the site could be on the hook for some $20 million for 2006.
Congress – Problem, Solution or Both?
Those seeking change say there were two laws passed in the 1990s that have brought the Web radio situation to this critical juncture: the 1995 Digital Performance Right in Sound Recordings Act and the 1998 Digital Millennium Copyright Act, which together treat Internet radio differently than terrestrial radio and from other forms of Internet communication.
"Why should we continue to be penalized for the mistakes made by Congress back in the 1990s?" questioned Bill Goldsmith, who runs Radio Paradise, a listener-supported station that plays tunes from a variety of musical artists and styles.
Congress needs to step in again to fix the problem of its out-of-date ruling, issuing a moratorium on the collection of new fees until the entire issue can be reexamined, he told the E-Commerce Times.
Terrestrial stations are exempt from the fees and satellite broadcasters pay at a lower rate, Goldsmith added. "Due primarily to our lack of clout with the U.S. Congress and the Copyright Office, legally operated Internet stations pay the highest royalty rates — by far — of any class of broadcaster in the U.S.," Goldsmith stated.
A Blurry Line
The music industry is also, no doubt, thinking a step or two ahead. With a host of technology enabling Internet broadcasts to be beamed to high-fidelity stereo equipment, the line between traditional and Internet radio is being blurred more than ever.
Radio's evolution from AM to FM to satellite has been turned into a revolution thanks to the Web, where a listener can find music any time to fit any taste. Indeed, even beyond what satellite can offer in terms of variety, Internet radio offers almost true personalization, with a host of new services enabling users to develop their own playlists from a broad universe of music.
Services such as Rhapsosdy from RealNetworks and FineTune now offer the added element of social networking, letting users share playlists and embed them in their MySpace pages or blogs.
Some of those next-generation music services have struck direct deals with record labels or the RIAA, enabling them to avoid paying the CRB-mandated fees. Other major players, such as the radio channels on Yahoo and AOL, may also be able to strike such deals. That in turn would leave smaller webcasters to fend for themselves, and likely leave them at a loss for how to make a go of it.