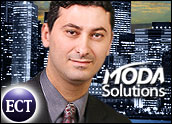 Security-conscious online shoppers have long feared that thieves will snatch their credit card number and other personal information right out from under their fingertips as they nervously click the "buy now" icon on retailers' Web sites.
The proof is in the numbers: 80 million consumers who use the Internet do not buy online. The majority of these online shoppers cite safety and security concerns as the primary deterrents, according to Gartner and JupiterResearch.
With the U.S. population at the 300 million mark, those 80 million concerned with online security constitute a significant problem for merchants looking for ways to increase conversion at the checkout.
Canceling credit cards, cleaning up a credit report, getting a new Social Security number and recovering bank funds are just some of the headaches and financial threats associated with identity theft and fraud — the primary reasons consumers are concerned about divulging financial and personal information online.
Online merchants who address consumers' security concerns will see an immediate impact to their bottom line by tapping into this unserved customer base.
Consider the Alternative
E-commerce overall is an economic powerhouse; 2007 online sales are forecasted at US$291 billion. For Internet purchases, credit cards dominate the payment landscape.
However, the balance of power between credit cards and cash-like options is starting to shift. In just three years, alternative payments volume is expected to jump from 12 percent to 26 percent, while credit card volume will drop below 50 percent, reports Boston-based research and consulting firm Celent.
As alternative payment systems move into the mainstream, a few options are beginning to appear at online checkouts, including PayPal, Bill Me Later, Google Checkout and SECURE-eBill.
Most of these options require shoppers to provide personal financial and other private information to complete the transaction, however. Many solutions make it hard to reach online shoppers who don't have a credit card, don't want to increase credit card debt, or don't want to enter any personal data.
Online banking alternatives now include a new way to use available funds to pay for purchases. It doesn't increase debt, doesn't require a credit or debit card, and most importantly, it does not require the shopper to exchange personal or financial information.
Banking on Success
When shopping online, consumers select online banking as the payment option on the checkout page. An eBill, or electronic invoice, is sent instantly from the merchant to the customer's e-mail address. The consumer can then log on to online banking and pay the merchant — the same as paying any other bill online.
The payment is sent directly from the bank account to the merchant. This is strictly a private bank-to-bank transaction. No one other than the consumer and the bank has access to the personal or financial information — not the merchant, not the Internet, not any Web site, and certainly not identity thieves.
Banks have designed, developed and invested billions into secure online banking infrastructures and are continuing the investment by adding double authentication in 2006, further securing consumers' cash. Online banking now boasts an already ubiquitous 84 million online users and is forecasted to reach 110 million by 2010.
Online banking offers consumers a safe, reliable way to pay for online purchases. Merchants can leverage this consumer trust and familiarity with electronic banking by offering online banking options at checkout.
Cashing In on Cash-Like Payments
Merchants can benefit from alternative payment options in a few fundamental ways:
Reduced chargebacks and fraud. With online banking, consumers are authenticated, and transactions are completed by willing and honest buyers. When consumers pay merchants through online banking, merchants are receiving good and legitimate funds.
More business. Every time consumers log on to their online banking account to pay a bill, they see their list of payees — which now includes all the merchants they've bought from. This exposure keeps merchants in the minds of consumers, while banks see increased transactions and returning customers.
Top-security shopping. Best of all, online banking is the only cash payment option available on the Web that doesn't require consumers to enter their bank account information. Nobody — other than the consumer and the bank — has access to the consumer's financial and other personal information.
Indeed, offering online banking as a consumer payment option feeds both needs: It can significantly increase merchants' sales and cut processing costs, and tightly secure consumers' personal information. The more secure choices online merchants offer their customers, the more likely they are to capture the retail profits.
As more and more merchants consider online banking as a payment option to service new customer segments, they maximize the investments made into scalable e-commerce sites. With online banking, consumers enjoy safe shopping throughout the year, and merchants reap the lucrative benefits of offering payment options and great customer service.
---
Marwan Forzley
is the president and CEO of
MODASolutions
, a provider of proprietary software solutions that significantly reduce the risk of e-commerce transactions for both consumers and merchants. MODASolutions' flagship offering,
SECURE-eBill
, allows consumers to pay for online purchases through the security and convenience of their existing online bank accounts.
---