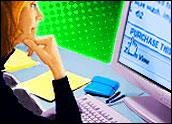 Online retail sales are projected to increase by 11 percent this year to US$156 billion, according to Forrester Research. Although that's good news, it's a small decline from last year's growth of 13 percent.
It's clear the down economy, with the lack of credit access and low consumer confidence, has dampened consumer spending. The e-commerce sector has been able to weather the economic storm better than some, but is far from immune to the effects of the recession.
A key outgrowth of declining consumer confidence and increased hesitation is shopping cart abandonment. Abandonment rates range from 41 percent to 50 percent, according to The E-tailing Group. Marketing Sherpa reports average rates at 60 percent.
There is an enormous opportunity for retailers to improve their checkout process and recapture these lost sales. Although Q3 is upon us, there's still time to implement new tactics to decrease shopping cart abandonment.
Top Reasons Shoppers Part With the Cart
Security and privacy fears. Data breaches are hitting more retailers, with such high-profile attacks as the TJX breach in 2007, and the Hannaford Brothers and 7-Eleven hacks in 2008. These breaches are driving identity theft to all-time highs, and many shoppers do not trust retailers' ability to safeguard their personal information.
Comparison shopping. Many shoppers go through the buying process and get to the checkout page to find out their total amount due, including tax and shipping. Additional costs at the checkout stage can lead to abandonment. Shoppers might repeat this process on many sites until they find the best deal. However, once they find the lowest cost, they still might not make a purchase if they consider shipping costs are too high or other added fees to be unreasonable.
Hidden return policies. Shoppers want to know they are protected and what recourse is available if they are not satisfied with a purchase. Restocking fees or return restrictions can deter a consumer from moving forward with an order.
Confusion and impatience. A confusing checkout experience does not sit well with shoppers. Often when shoppers don't know what to do next, they give up. Other things that can cause frustration: too many checkout pages, pages that load slowly, sites that require shoppers to register or create a profile before purchase, and no phone number provided on the site.
Shopping Cart Abandonment Solutions
Some etailers might think shopping cart abandonment is out of their control. How can you persuade shoppers after they've changed their mind about an item? Although some reasons might be uncontrollable, the majority are manageable and can be reduced by incorporating simple tactics on your Web site and into your checkout process.
Put security front and center. Prominently display online safety logos, such as Hackersafe, Verisign Secured, TrustE Certified Privacy, and Better Business Bureau on your homepage and each page of the checkout process. Also have a link to your privacy and security policy on your homepage and at appropriate points during checkout. Invest in secure payment options. This helps establish shoppers' peace of mind and builds confidence that your site is safe.
Get to know your customers. Shopper surveys are a great way to learn the likes and dislikes of consumers. Monitor your Web site — specifically the shopper's experience as customers go through the checkout process. Look for indications of when and where abandonment takes place to look for trends and common factors among your abandoned transactions.
Address identity theft head-on. Play a proactive role in customer identity theft education by providing basic guidelines on how shoppers can safeguard their identity while shopping online. Also, include measures to take if their identity is stolen, such as information on who to contact, resolution steps, etc. This shows shoppers you care about their safety and builds their trust in your brand.
Be upfront about fees. Show shoppers all costs associated with their purchase before they get to the checkout. This saves them from going through the checkout process only to learn the cost is too high, and leave to comparison shop. Have a prominent link on your homepage that displays shipping and any additional purchase costs.
Offer alternatives. With the lack of credit access, shoppers are increasingly turning to cash to better manage their finances and limit debt. Consider expanding checkout options with cash-based alternatives. Options that leverage online banking offer a way for consumers to pay with available money while keeping their financial information secure.
Protect and serve. Buyer protection is an effective technique that can strengthen customer relationships and incentivize sales. You can develop a plan in-house, or look for payment providers that offer built-in protection. A good buyer protection plan should include features like zero liability for unauthorized transactions; price protection that ensures the best possible price; 100 percent return guarantee; and protection from shipping loss or damages. Prominently display your plan on your homepage.
Be transparent about "gotchas." Provide easy access to your return policy. Clearly state all rules, restrictions, restocking fees, etc. Post these policies or a link to them in each product description so shoppers are aware of what they are committing themselves to before they reach checkout. There shouldn't be any surprises during the checkout process.
Be fast and friendly. Shoppers crave convenience. A two- or three-step checkout process is ideal. Provide shoppers the opportunity to review what they did in previous steps without erasing the information they've already entered. The cart should have a clean design that includes only the necessary information: items, prices, availability, shipping options and costs, and payment options. Post your 800 number and/or online chat support link on each checkout page.
It's important to note that not all tactics are right for all e-commerce retailers. However, by testing a variety of methods, you will be one step closer to boosting your sales conversion rate and retaining customers.
---
Marwan Forzley
is president and CEO of
eBillme
, a provider of secure e-commerce checkout solutions.
---