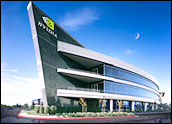 Nvidia and Intellectual Ventures have partnered to buy a set of patents developed and owned by IPWireless. The patent portfolio comprises approximately 500 wireless patents, including in such areas as LTE, LTE-Advanced and 3G/4G technologies.
The acquisition is viewed as another sign that the company is getting more serious about diversifying beyond its gamer-friendly graphics cards. For instance, the portfolio is believed to be complementary to its Tegra processor with LTE connectivity, which is expected to deliver in 2013.
The portfolio acquisition is also viewed as a safeguard against the IT industry's favorite competitive tactic: intellectual property lawsuits.
Preventing a Mugging
"Picking up a big box of LTE and 4G patents is a good strategy if you are expanding into this space," Charles King, principal analyst with Pund-IT, told the E-Commerce Times. "The more patents you have, the less likely it is that someone will mug you in the courts."
That "mugger" could well be Apple, sooner or later, speculated Rob Enderle, principal analyst of the Enderle Group.
Right now, Nvidia is the top technology vendor in non-iPad tablets, largely because it has been able to create a powerful ARM-based platform with strong graphics, he explained.
"Their current Tegra 3 platform appears to be stronger than Apple's, and Tegra 4 is expected to leave Apple in the dust," Enderle told the E-Commerce Times.
Nvidia's first Tegra 3 phone, the HTC One X, launched earlier this year. Tegra 3 phones are available from 22 carriers in Europe and Asia.
Nvidia is anticipating that neither Apple nor Qualcomm will sit back while its products take large portions of market share — initially from tablets and eventually from smartphones — and one or both of these companies could move to block or eliminate its offerings with IP challenges, Enderle said.
An Unusual Structure
This deal's structure is interesting and could become a model for future IT patent portfolio acquisitions, Pund-IT's King suggested.
Nvidia and Intellectual Ventures have split the ownership of the patents, with Nvidia licensing the rights to the patents that it did not acquire. As part of the acquisition, IPWireless retains perpetual, royalty-free access to the patents.
"Most of the plays that we have seen in patent acquisitions have been single companies buying out portfolios for themselves," King said.
"This deal that Nvidia brokered by partnering with another company and then cross-licensing the intellectual property — that could represent a new model for companies that may want to expand their patent portfolios but cannot afford to buy out an entire portfolio. This way, Nvidia and IV are gaining broad benefits but at less money," he noted.
"So we may see more partnerships or consortium-buying with other companies in deals in which all of the parties can mutually benefit," King concluded.