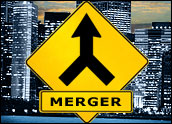 Powerhouse telecom providers Nokia and Siemens intend to merge their telecom networks businesses to create one of the largest entities in the industry. The 50-50 US$30 billion joint venture, Nokia Siemens Networks, is expected to generate $20 billion a year in revenue.
More significantly, the merger could represent the long-awaited tipping point for fixed-wireless telephony convergence.
"The industry has been talking about the convergence of wireless and wireline for some time," noted Godfrey Chua, research manager of the wireless and mobile infrastructure program at IDC. It has failed to materialize though, for both tech and market reasons.
Now, demand from users and competitive market pressures are pushing Siemens and Nokia to develop a presence in this space, Chua told the E-Commerce Times.
Economies of Scale
The immediate benefits of the merger, at least to Nokia and Siemens, are the economies of scale that the companies expect to realize. The merger, which is subject to approval by regulatory authorities, will eliminate some 15 percent of redundant positions across the two firms.
Eliminating redundancy in R&D, for example, will quickly add to the merged entity's bottom line. "There is an anticipated $1 billion in savings once duplicative R&D operations are streamlined," Chua said.
Culture Affinity
The Nokia-Siemens announcement follows a series of consolidation moves in the telecom industry, most notably Lucent's planned merger with Alcatel, disclosed earlier this year. They have been long-awaited, Chua said, since at least the late 1990s.
"The need for such industry mergers has been apparent for some time," he said, "but it was only until the market stabilized that they could finally occur."
Chua, along with the rest of the telecom industry, is waiting to see how Motorola and Nortel will react. "At one time, they were both candidates for merger with Siemens," he recalled.
They will have to begin rounding out their portfolios as well, he suggested, either through a large acquisition or a handful of smaller ones. Whether they merge with each other or find other partners with the right fit or right price is still unclear.
They may be hard pressed to find a partner as suitable as Nokia and Siemens are for each other. Chua said he liked this merger better than, say, one between Nokia and a Japanese company or a North American provider.
"It will be easier integrating two European firms than two firms from very different cultures," he said, acknowledging that a merger of this size will inevitably meet challenges.
"These challenges will be less difficult, however, given what they already have in common," Chua concluded.