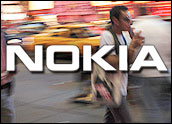 Nokia, the world's biggest mobile phone maker, has agreed to buy navigation specialist Navteq, a deal that Nokia says will help it expand its business into location-based Internet services.
The Finnish phone giant will pay US$8.1 billion for the Chicago-based company, pending regulatory and shareholder approval. Nokia's offer of $78 per share represents a 34 percent premium to Navteq's stock price of one month ago, Navteq Chairman of the Board Christopher Galvin noted.
"In considering the offer, we approached other potential purchasers about their possible interest in Navteq and our board took those contacts and discussions into account in determining that Nokia's proposal was the best opportunity available to maximize value for our stockholders."
The deal was reasonable, analyst Douglas McIntyre of 24/7 Wall St. believes. "It would be hard to make the case that they paid too much," he told the E-Commerce Times.
Location, Location, Location
Navteq will continue to support its existing customers after the deal closes in the first quarter of 2008. It is one of the world's leading providers of digital map information for automotive and mobile navigation units. It also supplies data for Internet-based mapping applications including Google Maps, and it owns Traffic.com, where users can get live road condition reports.
Navigation "is a fast growing business, and with location-based services expanding rapidly into mobile communications devices, the industry is poised for even further growth," Nokia said.
Taking Navteq under its wing will bring Nokia the world's best maps and navigation industry experts, a strong customer base and an industry leading map data and technology platform with broad geographical coverage.
The 22-year-old company had 2006 revenues of $582 million. Its 168 offices in 30 countries employ about 3,000.
Moving Beyond Hardware
The buy is part of Nokia's strategy of moving into Internet-influenced markets, including entertainment and location-based services.
"The acquisition of Navteq is another step toward Nokia becoming a leading player in this space," said Nokia President and CEO Olli-Pekka Kallasvuo.
Acquiring Navteq will allow Nokia to more quickly bring to market context and geographical information for some of Nokia's Internet services, said the CEO. His counterpart at Navteq, Judson Green, said he is excited about the possibilities afforded the combined companies, given Nokia's huge customer base.
Navteq provides location-based data to some of Nokia's competitors or service providers with whom they've partnered. Navteq's current map data business will continue to operate independently despite being a Nokia Group company, the two companies said.
"This will ensure that Navteq's current and future customers continue to have a dedicated and strengthened unit serving them as before with digital map information for automotive navigation systems, mobile navigation devices, Internet-based mapping applications, as well as government and business solutions," they stated.
Owning the Source of the Data
The acquisition was a smart move for Nokia because, among other things, location data is key to current and future mobile services, industry analyst Jack Gold, principal of J. Gold Associates, said.
"They need to move beyond simply being a hardware provider," Gold told the E-Commerce Times. "Not that they are going to get out of the hardware business, but if they want to move upstream to higher-end phones where the margins are, they need to begin offering services."
Navteq was a good play "because location-based services are going to be an enabler for almost everything," Gold said. Navteq probably would have been acquired by a competitor if Nokia didn't make a move, he surmised.
"So, Nokia was making a pre-emptive strike," said Gold, who added that Navteq was is a profitable company whose acquisition is likely to give Nokia some competitive advantage as it moves into offering location or navigation services.
Nokia's aggressive move to become more than a device maker might not sit well with some of the carriers now buying its units but trying to sell services and content of their own, 24/7 Wall St.'s McIntyre said.
"When you're selling people handsets, there's no collision of interests," said McIntyre. "The minute you start to get into the business of software and downloads of some product that goes on the handset, now you're in [the carriers'] business, and that's a problem."
Carriers will not suddenly stop buying Nokia devices, he said. "But it might get them thinking about somebody else's."