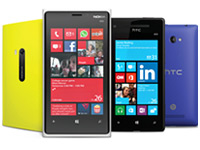 Nokia posted a banner fourth quarter on Thursday, fueled in large part by brisk sales of the Lumia smartphone.The news was a pleasant surprise to shareholders as the company had forecast a loss as recently as October.
Of the total 86.3 million devices sold, 4.4 million units were from the Lumia line, a significant uptick from the 2.9 million Lumias sold in the third quarter.
Nokia's operating margin for the fourth quarter 2012 was estimated between breakeven and positive 2 percent, compared with the previous outlook of approximately negative 6 percent, plus or minus four percentage points.
Nokia is not expecting a repeat performance for the first quarter of 2013. It warned that seasonality and competition are expected to have a negative impact compared with the previous quarter.
Validating the Turnaround
Still, the fourth quarter's sales are a distinct validation of the company's decision two years ago to retool its approach to market. When Stephen A. Elop took the helm of Nokia back then, it was unclear whether or in what form the company would continue. Elop helped engineer a strategy that jettisoned the Symbian operating system and linked the company's fortunes to Microsoft.
Along with those moves, Nokia undertook a major restructuring program — an initiative that helped fuel the company's performance this past quarter. One of the reasons for its recent quarterly performance was lower-than-expected operating expenses, partially due to greater-than-expected cost reductions under the restructuring program.
Laying the Groundwork
Nokia's fourth quarter performance — especially Lumia sales — was the result of heavy product promotion, Sean Casto, CEO of PreApps, told the E-Commerce Times.
"The Lumia had a nice marketing push in fall of 2012," he said. "When you combine the Lumia's marketing push with Windows' own marketing push, it is not a surprise to see how well the Lumia did."
Nokia doesn't enjoy the prestige that it held in the early-2000s pre-smartphone market, but it is still a top seller in Europe and has major development capacities, Casto pointed out.
Its decision to partner with Microsoft was a smart move, he added. "Since most phone makers have adopted Android as their operating system, it left the Lumia as the chief beneficiary of all of Microsoft's marketing efforts for the Windows Phone and their new Windows 8 operating system."