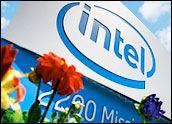 Intel beat Wall Street analysts' earnings expectations but still reported sinking revenue in its quarterly report earlier this week, prompting a pessimistic outlook for the chip giant's fourth quarter.
The company brought in earnings of US$3.8 billion, or 58 cents per share, on revenue of $13.5 billion during the third quarter, compared with $14.2 billion the same time a year ago. Analysts had expected revenue of $13.23 billion and earnings of about 50 cents per share.
Intel pointed to the struggling economic climate for its relatively flat sales. It also noted the rise of innovative competing products like smartphones and tablets that are making it difficult for consumer PCs to thrive in the crowded consumer device market. The PC division at Intel dropped 8 percent from a year ago, with third-quarter revenue of $8.6 billion.
The company tempered expectations in its outlook going into 2013, estimating fourth-quarter revenue of $13.6 billion, plus or minus $500 million. The forecast was slightly lower than Street expectations of $13.74 billion.
Intel did not respond to our request for further details.
Slumping PCs
Flat PC growth is a trend that's hurting other companies besides Intel, said Patrick Wang, analyst at Evercore, although he is concerned the company doesn't seem to have a solid plan to address the issue.
Though Intel CEO Paul Otellini noted "continued progress in Ultrabooks and phones" and pointed to the Intel-based tablets hitting the market, it's difficult to guess how significant an impact these products could have, said Hendi Susanto, analyst at Gabelli. Ultrabooks are more powerful and capable than tablets, but that comes at a higher price, which might not help Intel during a tough economic climate. Additionally, Intel has to partially rely on companies like HP and Lenovo to promote and sell the devices.
"I don't see Ultrabooks becoming a new category that will drive consumer PC demand and help it return to double-digit growth. It's not the best thing to bet on," he told the E-Commerce Times.
There are other growth areas the company ought to focus on, said Wang.
"Intel still has sustainable growth drivers of enterprise PC refreshes, its data center and cloud computing services, and higher market penetration in growth markets," he pointed out.
It's that growth — driven partially by improvements overall in the economy — that will ultimately help Intel regroup going forward, Wang predicted.
"The bigger key is the global macro recovery, especially in China," he said. "That's the most important element, more so than a new Windows 8 device or an Ultrabook."
Looking to Other Markets
Despite the upcoming launch of the highly anticipated Windows 8, Intel was modest in its fourth-quarter forecast.
"What new operating systems have typically done is drive demand for a period of time with PC upgrades," Wang pointed out. "Intel kept pretty conservative guidance even through the launch of Windows 8, so they're kind of realizing this might be the status quo."
Ultimately, survival isn't an issue for Intel, said Susanto. Even though slow consumer PC demand and economic woes are hurting the market, Intel has enough infrastructure in place to weather a few quarters of flat sales.